The Classic Slant Tweezer is one of the most recognisable beauty tools within the beauty industry and has won Allure's Best in Beauty award since 2001 to date, is the winner of CEW Best Classic Beauty Product 2018 and CEW Best Beauty Icon 2019! A favourite amongst beauty professionals and MUA's, the Classic Slant Stainless Steel is also a popular tool for the everyday makeup bag.
Our Classic Slant Tweezer recently won the Woman & Home Beauty Award 2020 and has been nominated for CEW Best Beauty Icon 2020 too!
---
Perfectly aligned tips
At Tweezerman, one of our core principles is quality and that's why all of our Slant Tweezers are hand-filed to ensure they're at an optimum 25 degrees for gripping hair, with perfectly aligned tips when closed. What does that mean for you? The Classic Slant Tweezer grabs the hair every single time no matter how fine and its equal alignment means that you can use either edge of the slant.
Famous guarantee
Tweezers need to be reliable for shaping brows to achieve the perfect shape or arch, and if tweezers have dulled over time, most people will look to buy another tool. However, when it comes to our Slant Tweezers, we offer a free* Sharpening Service. That means that your tweezers will last for as long as they can still be sharpened and for some that's a lifetime!
Easily cared for
The Classic Slant is made purely from stainless steel with no enamel overlay, which makes it perfect for sterilising and easy to clean when used regularly - if you're a makeup artist, beauty professional or just someone that loves to keep their brows perfected, it makes caring for your tools that bit easier.
Why choose a Slant Tweezer?
Slant Tweezers are a great all-rounder and due to their different edges, it allows for options when it comes to plucking and styling your brows. Its flat edge will catch fine, stray hairs around and below the brow when pressed parallel to the skin. Whereas a Slant Tweezers pointed tip works perfectly for plucking individual hairs for shaping with precision and not accidentally pulling out an imperative hair to your sculpted brows.
The sharper hand-filed tips allow for stray hairs to be caught more efficiently and with its calibrated tension, it doesn't leave your hand cramping after or during use. And they're not just for brows! They work perfectly for plucking thicker chin hairs without breaking the hair when pulling and can even catch hairs that barely stick out from the skin too!
---
How to use your Classic Slant Tweezers
Step One
To ease tweezing, take a hot shower or use a warm washcloth to open pores.
Step Two
Tweeze in the direction of hair growth to avoid breakage.
Step Three
To close pores post tweezing, use cold water or astringent.
Step Four
For expert results, never yank or tug on brow hairs - always use the Slant's precision tip to isolate, lift and then grab the hair from the root.
This not only helps avoid breaking the hair, but it's also much more gentle on your skin. When you smoothly glide each entire hair out, broken stubble and 'black dots" won't be left behind, instead you create a flawless, expertly shaped, clean look.
Step Five
Clean the tweezer after each use with isopropyl alcohol or peroxide.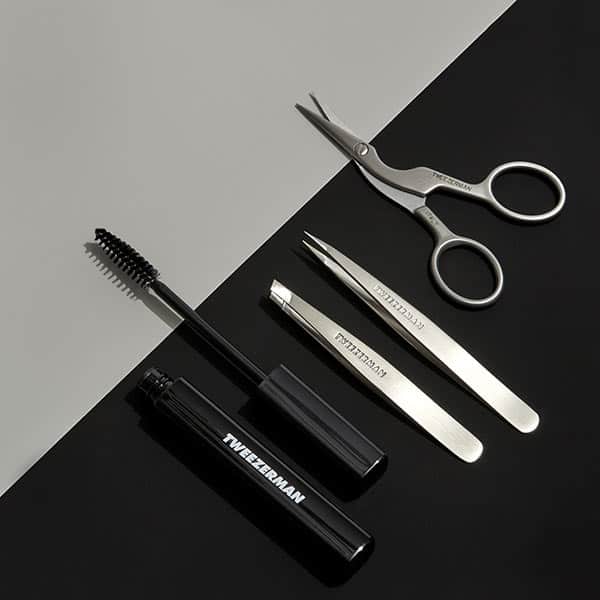 We also have an impressive range of other award-winning tweezers and brow tools to help you look and feel fabulous!