When it comes to applying false lashes, whether it's strip lashes or individual lashes, it can be quite an intimidating part of makeup application for professionals, let alone beginners. However, when it comes to the tool itself, lash applicators offer much more control and precision. Forget using your fingers, it's all about the Lash Assist.
Lash applicators have been on the rise as an industry standard Beauty Tool for the last decade. They've swiftly become a must-have tool in anyone's makeup bag, whether that's a professional MUA, Lash Technician or a beginner to lash application - they're designed to assist in the application of both strip lashes and individual lashes. A lash applicator offers expert precision and control, saving time and not smudging makeup in the process.
What are the benefits of using a Lash Applicator?
Lash applicators are the go-to Beauty Tool for creating both voluminous and natural lash treatments. They're ideal for creating fan lashes due to the sharp angle, but there's a whole range of added benefits when it comes to the Tweezerman Lash Assist.
Perfect shape
The Lash Assist applicator has a flat outside edge so that lashes won't twist or turn once gripped (a common issue using Slant Tweezers). The longer handle makes it easy to grip individual lashes, lash clumps and strip lashes, to precisely place lashes on or around the lash line. A gentle grip offers just the right amount of tension for precise placement of the lash without slipping.
The Lash Assist's angled tip makes it much easier to press the end of a Lash strip as close as possible to the Lash line. Its curved, blunt tip also makes for a safer Lash tool when compared to Slant Tweezers and Point Tweezers around the eye. Stainless steel and lightweight, the Lash Assist is more comfortable to hold for long periods of time during Lash treatments too.
Saves time
Due to the Lash Assist's precise grip, it means that it takes even less time when applying lashes. Application can be difficult when applying with fingertips to precisely place lashes, without smudging makeup or getting glue on fingers or around the eye. Whilst care still needs to be taken, the Lash Assist offers more control and less danger around the eye with its rounder, blunt edge compared to the sharp edge of a Slant or Point Tweezer. It's especially worthwhile for beginners who are struggling to achieve precise placement along the Lash line.
Tweezerman Lash Assist
Allure - Best of Beauty Award Winner - 2018
From natural to glam, achieve your best Lash lift with the award winning Lash Assist. With it's professional quality this Lash Applicator works seamlessly with strip and individual lashes. With the same precision as Tweezerman Tweezers, the Lash Assist was designed to have a curved tip to allow for easy application and clear visibility when applying false lashes.
How to use the Lash Assist lash applicator
Step one
Start by curling the natural lashes – adding lift to natural lashes will help false lashes blend in better. If using false strip lashes – trim length to fit if needed.
Step two
Hold the Lash Applicator between your thumb and index finger. With the angled tip pointed down, use the tip to grasp the edge of the base of the false lashes.
Step three
Apply a small amount of lash glue to the base. If using strip lashes, dot glue along the base. Wait several seconds for the glue to get slightly tacky.
Step four
Use the Applicator tips to place false lashes gently against the lash line. Use the base of the Applicator to gently press lashes into the lash line to help secure the false lashes better.
Frequently asked questions about Lash Application
Can I use the Lash Assist on strip and individual lashes?
Yes, whether a false lash strip or an individual lash, the Lash Assist tool can easily grab and apply the hair to the lash line.
What happens if I get glue on the tool?
Not to worry! If you get glue on the Lash Assist, simply clean with soap and water and the lash glue will come away. We do recommend cleaning the tool's tip with isopropyl alcohol between uses.
What's the difference between strip lashes and individual lashes?
Strip lashes
Strip lashes are an easier, quicker alternative with a traditional strip of lashes that can be applied to the lash line. These lashes are generally pre-styled with varying amounts of individual lashes along the strip, different in length, thickness and curl.
Individual lashes
Individual lashes or single lashes create length, curl and thickness but still offer a more natural, less intense look. Either single, longer lashes are applied or lash clumps to a single lash to create that fuller look. Unlike strip lashes, each lash or lash clump has to be applied with glue to a single lash. Individual lashes are commonly known as lash extensions and are good for different eye shapes.
Find out more about the best Eyelash Curlers for your eye shape.
Other Beauty Tools to add to your Lash Lift routine
Rose Gold Classic Curler
Our expertly crafted Classic Lash Curler finished with Rose Gold, gives your natural lashes a dramatically beautiful curl. From beginner to expert, the Rose Gold Classic Curler is easy to use and is a must-have in your makeup bag to further enhance the application of false lashes.
---
Folding iLashcomb
A makeup bag staple, the Folding iLashcomb glides through lashes to remove excess mascara, leaving them separated, defined and clump-free ready for individual lash application.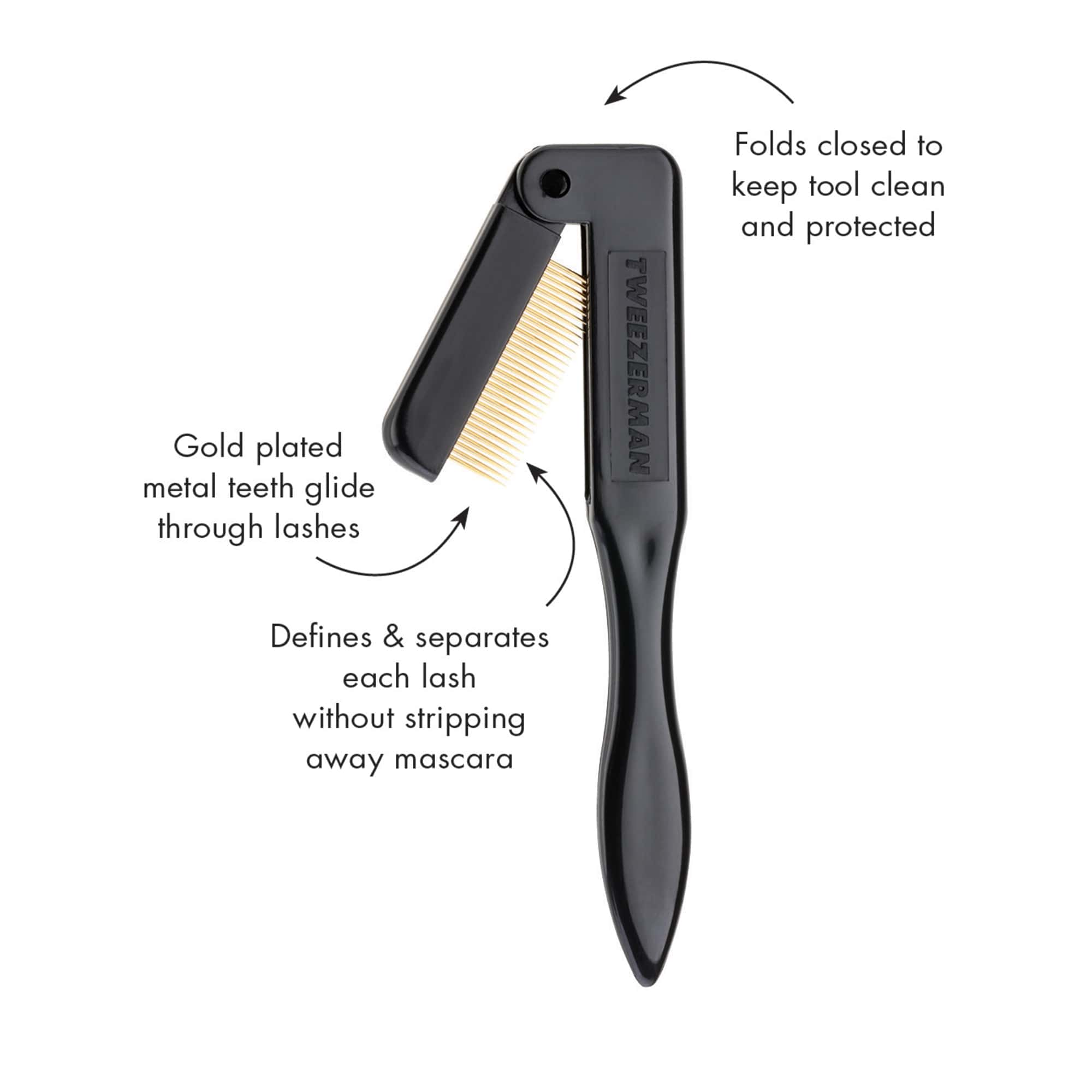 ---
Brow Shaping Scissors & Brush
Featuring ultra thin blades which are custom designed to trim brow hairs, the uniquely contoured body allows for comfortable handling and expert trimming and shaping of brows. However, these Brow Shaping Scissors are perfect for trimming strip lashes to the desired length of your eye shape too!
---