Did somebody say a new manicure kit?

We're all relieved to be able to get back to see our Nail Tech and visit the Beauty Salons to give our nails a little TLC. We bet your nail file at home has seen better days and who hasn't accidentally picked up the wrong clippers?

Whilst we're all super happy to be able to have our nails done professionally again, it's a relief to have our own professional nail kit at home too - for those unavoidable touch-ups in-between visits and keeping natural nails looking healthy and gorgeously buffed.
Tweezerman Manicure Kit

Precisely trim, shape, buff, and shine nails into perfection! The Tweezerman Manicure Kit has all the essential tools to care for your nails and keep them looking healthy. Outfitted in a super sleek, professional monochrome finish, the Tweezerman Manicure Kit has become our go-to to trim and shine our nails at home and on the go.

Included in this quality kit:

Nail clipper features sharp, strong, stainless steel cutting edges for easy manicure maintenance

Nail buffer is colour-coded and labeled to file, buff, smooth, and shine nails with ease

Professional-quality nail files are dual-sided for shaping and smoothing nail edges with precision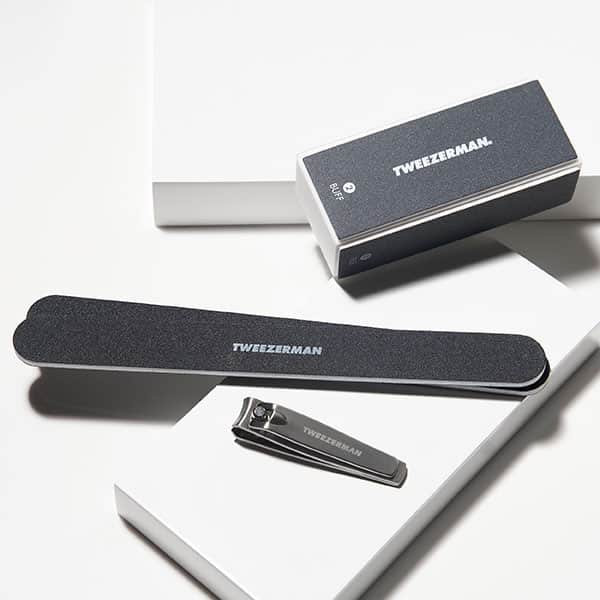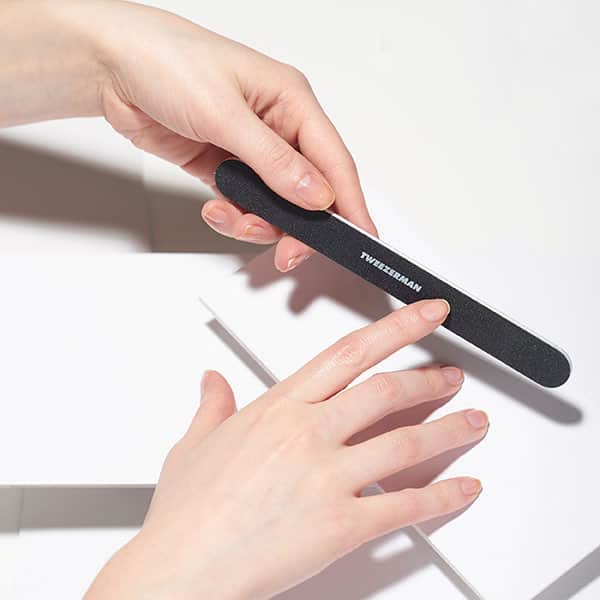 How to use our Tweezerman Manicure Kit tools
Step One - Trim!
Start by trimming nails into the desired shape with the nail clipper, starting at the corners and clipping toward the centre.

Step Two - Shape!
Shape and smooth nail edges with nail files. Start from the side of the nail, and in one direction, file towards the centre.

Step Three - Buff!
Buff away imperfections with the nail buffer. Use the black pad to file, the dark grey pad to buff, the light grey pad to smooth and finally, the white pad to shine nail beds.

Not quite the kit you're looking for? Check out our Mini Nail Rescue Kit with its high quality, travel-friendly set of mini manicure essentials for nail grooming on the go.
---
Nail Buffer Blocks

File, buff, smooth and shine nails to perfection with Tweezerman's Nail Buffer, which has been designed for quality self-care at home and on the go!

Each side of the fingernail buffer block features pads that file, buff, smooth, and shine nails. The sides are gentle on nails and effectively shape and smooth to the perfect shine for naturally glossy nails. The Buffer pads are colour-coded and labeled for ease of use.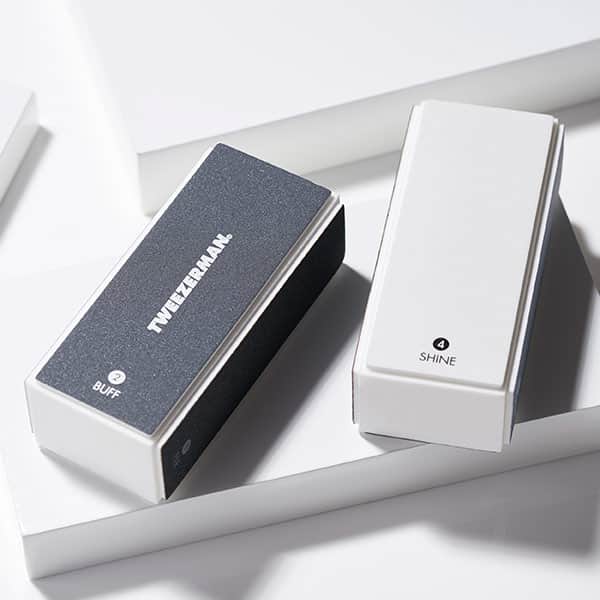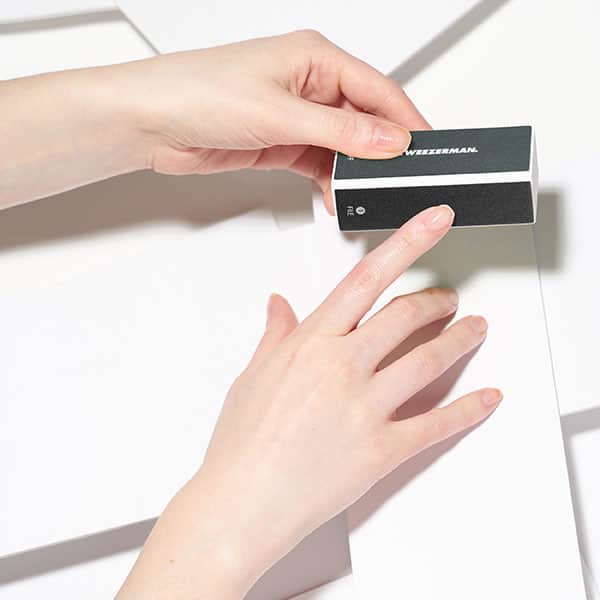 How to use the Nail Buffer Block

Step One
Start by filing nails edges with the black pad (side 1) to achieve your desired nail shape and edge.

Step Two
Use the dark grey pad (side 2) to buff all over nails to even out and smooth up your nail

Step Three
Next, with the light grey pad (side 3) smooth the nail bed and nail edges to avoid breakages and any snags.

Step Four
Add the perfect shine with the white shining pad (side 4) for that naturally, radiate nail.
---
Heard about the Neon Hot Filemates?

Awarded an Indy Best Buy within the '8 Best Nail Files For Manicures At Home', the Independent said, 'These are traditional dual-sided emery board but in two-tone neon, which makes the whole experience more fun.'

The high quality, dual-sided, professional Neon Hot Filemates, are nail files for expert nail shaping and filing. The dual-sided Neon Hot Filemates come in a 3-pack with a case to keep them protected and 100/180 medium grit surfaces for filing natural and acrylic nails.

The Independent went on to say,
'While you could just use one of the three and save the others for when it needs replacing, we like to keep one in our handbag (in the case provided), one on our desk and one by our bed, so you always have one in reach for those pesky snags."