When it comes to Callus Shavers we put our best foot forward (excuse the pun!) with the Tweezerman Safety Slide Callus Shaver and Rasp for super smooth feet. As the summer descends in the UK and we're allowed to start venturing out a little more, sandals are the go-to as things heat up, and there's nothing more satisfying than a little self-care with a pedicure.
Introducing...
The Tweezerman Callus Shaver Safety Slide Callus Shaver with Rasp
The Tweezerman Safety Slide Callus Shaver and Rasp is the 2-in-1 wonder tool for double duty removing of hard calluses and smoothing rough, dry skin for day to day activities. This safety-first Pedi essential achieves soft feeling and looking feet without having to always visit the beauty salon for a pedicure.
An essential for at home pedicures, the Safety Slide Callus Shaver with Rasp effectively removes and smoothes calluses with gentle, comfortable pressure.
Use to smooth and remove calluses on the balls and heels of feet as well as hard patches on the bottoms of toes. The Callus Shaver & Rasp is designed to glide across the skin to gently remove dead skin and leave your feet looking soft and well-nourished. The perfect tool for at home pedicures and sandal-ready feet this summer.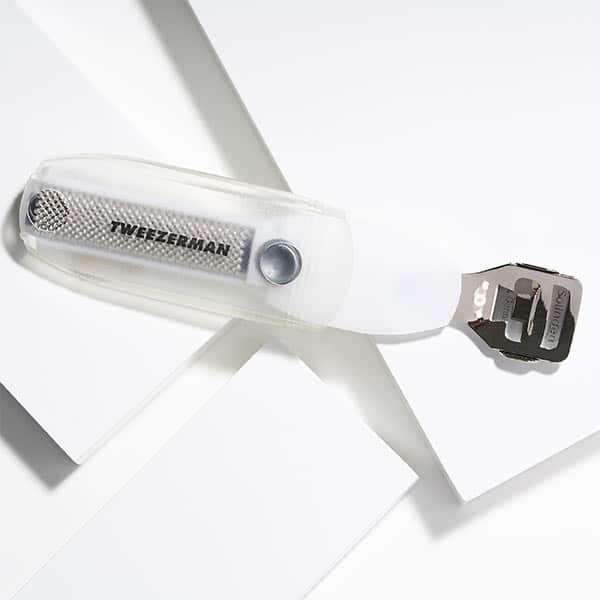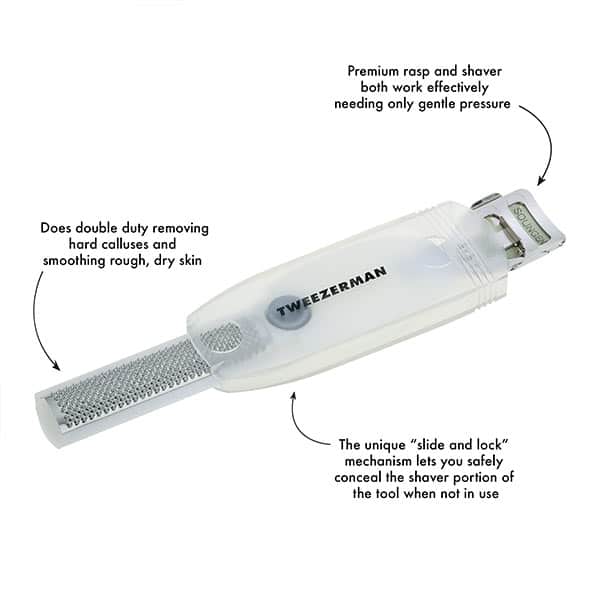 How to use Tweezerman Callus Shaver and Rasp
Step one
For the best results, clean and soak feet to soften hard skin before using the Callus Shaver against the skin.
Step two
Gently glide the Callus Shaver across hard skin to remove thin, dead layers.
Step three
To smooth the skin using the rasp, simply press the button on the handle and slide the shaver part down into the case. Use your fingernail in the notch on the bottom of the handle to help slide the shaver down, exposing the rasp.
Step four
Once the tool is locked in place, flip it and use the Callus Rasp to smooth skin.
---
How to change the blade on the Tweezerman Callus Shaver
Step one
Simply lay the Callus Shaver on a flat and hard surface and securely hold the sides of the blade holder, then push the handle forward.
Step two
Lift the Callus Shaver handle and whilst not touching the razor, turn the holder over so that blade drops from the holder.
Step three
Insert the new blade and while holding the sides of the blade holder, re-position the handle and pull it towards you. Repeat once the blade has become dull.
---
Sole Smoother Anti-Bacterial Callus Stone
Infused with silver, this pedicure Callus Stone provides protection from bacteria and germs. The premium quality Sole Smoother Antibacterial Callus Stone is fully waterproof and has an ergonomic handle for comfort whilst in use.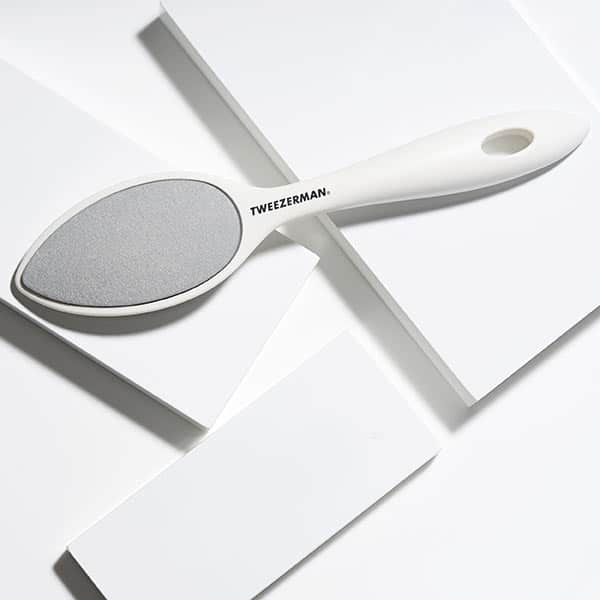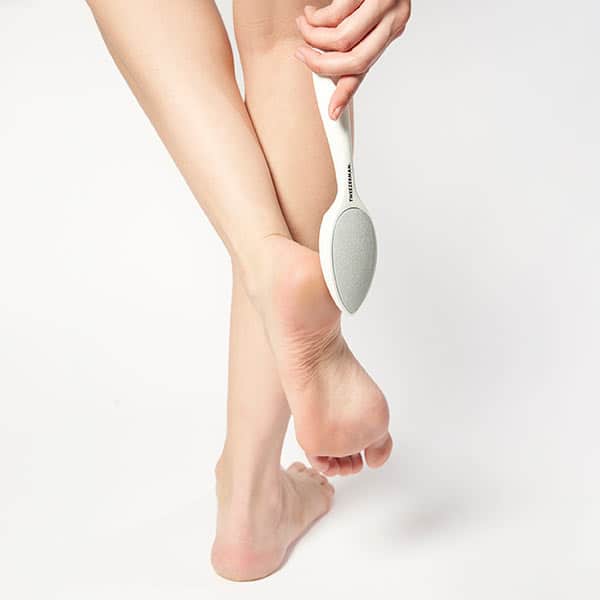 Frequently asked questions…
Why do you get calluses on your feet?
Calluses form due to frequent pressure against the heels and balls of your feet or beneath the toes. This could be down to frequent exercise, types of footwear or the friction caused by footwear too. As our feet support our body weight, calluses are especially common and can feel uncomfortable or sore with increased activity. Calluses form to protect the skin from pressure but are not harmful or harmful to your feet to remove with care.
How do I prevent calluses?
Make sure your shoes and socks fit well to your feet and wear arch supports if they're needed. Always keep your feet clean especially after sport and there's nothing wrong with soaking your feet after a long day. Calluses are especially common so having a tool to soothe the skin regularly with shaving off dead skin keeps heels supple.
Can I cut off calluses?
We wouldn't recommend cutting calluses as they're still attached to fresh, living skin beneath the dead skin caused by pressure and friction. Callus Shavers and Callus Stones are designed to work off thin layers of dead skin at a time, so you're able to see when you're arriving at new skin beneath. Cutting off calluses can lead to bumpy and uneven skin, which can add to the pressure and friction that causes calluses.
How do I stop calluses?
You can work to prevent them as suggested above but because we tend to move around or wear footwear so frequently, even sitting stationary friction and pressure can build up within footwear. We'd recommend maintenance by keeping up with regularly foot scrubs, soaking and exfoliation. Wear footwear that fits and have a Callus Shaver on hand to remove any moderate build-up.
Not quite what you're looking for? Browse our full range of manicure and pedicure tools.