Professional Nail Files
Expertly shape and finish your natural or acrylic nails, with a high-quality nail file that achieves that perfectly manicured salon-look. Tweezerman's Professional Nail Files comes with 3 dual-sided, professional quality, 7" nail files. Each file has a 180-grit and 240-grit board for shaping and smoothing nail edges with precision.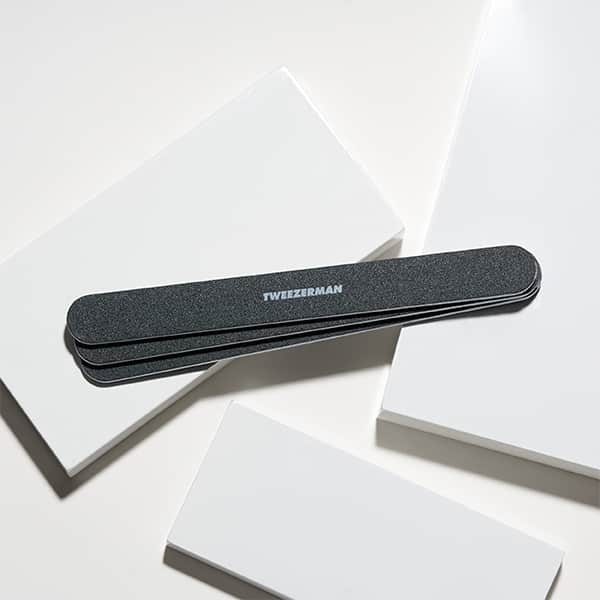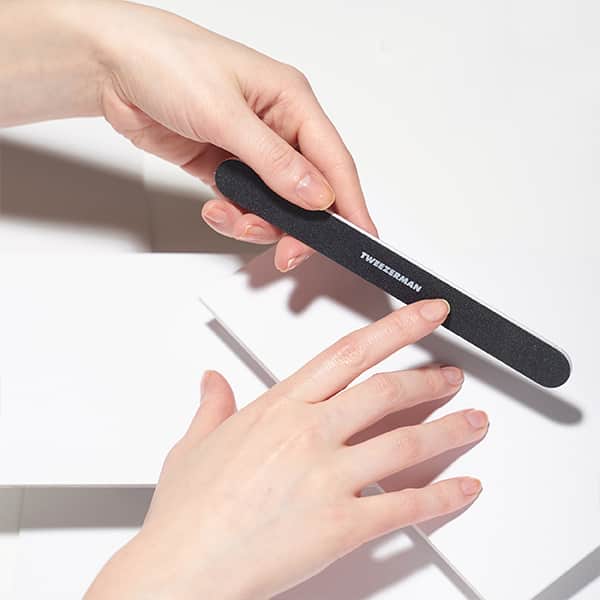 How to use professional nail files
Step one
Choose the grit depending on your nail type. If you have a natural nail, use the softer 180-grit surface. You'll be able to tell the difference in softness by running your fingertip over the board. If you have acrylic nails, use the rougher 240-grit surface to better file the harder edge and surface of acrylic nails.
Step two
When you've chosen the side of the nail file you need, use the nail file to shape your nails. Always file in one direction instead of back and forth, to help ensure that your nails won't split during filing or weaken them after. Repeat the one direction filing routine on each nail until your desired shape and length is achieved.
Step three
If you have natural nails, buff your nails to give them natural shine and keep them looking healthy and well manicured.
Step four
Wash your hands in warm, soapy water to remove any nail filings on your hands or tucked beneath your nail. Use hand cream to moisturise your hands. If you used a Pushy or nipped your cuticles with a Cuticle Nipper before filing, make sure you rub some cuticle oil into the beds of your nails too.
Frequently asked manicure questions
Why should I give myself a manicure?
Natural at home manicures focus on strengthening your nails, removing jagged edges or minor breakages in the nail, to stop from snagging them on material or whilst you're using your hands. It also gives your nails a break from the use of nail polishes, gel or the use of acrylic, shellac or gel nails.
Should I have breaks from using nail polish?
Whilst we love accessorising and colour coordinating our nails to our outfits or to the season, if it is important to let your nails have a break. Polish can weaken your nails, cause yellowing and due to the need to use the likes of acetone to remove polish, it can cause nails to peel, become brittle and break.
Should I file nails or cut nails?
If your nails are much longer than your desired look, you can trim them with curved nail scissors or a fingernail clipper. Make sure you're using a clipper for fingernails, which is curved to match the shape of your nails. Toenail clippers are straight to prevent ingrown nails. Nail filing is for shaping your nails, so if they're longer than the shape you wish to achieve, then clip your nails.
I don't want to cut my cuticles, what can I use to push cuticles back?
If you don't want to cut your cuticles, you can use a Pushy to push back your cuticles away from the nail for a cleaner edge.