Lockdown life means that we're all missing regular visits to our Brow Technician, Specialists and Salons, so we've brought the experts home with our at-home tips to trimming and shaping brows.
It can be stressful - even nerve racking - the decision to shape your own brows at home when you're used to a professional regularly upping your brow game. Many of us have found ourselves grimacing in the mirror at the sight of unruly eyebrows that are fluffier, bigger and more unruly than we'd like.
Even with the latest trends in feathery, thick brows, they're still maintained and shaped to look natural but manageable. Truth be told, most of our brows are feeling wildly unmanageable!
That's why we've discussed brow trimming and shaping with the leading experts at Tweezerman to give you the top tips and tricks to maintain your brows at home.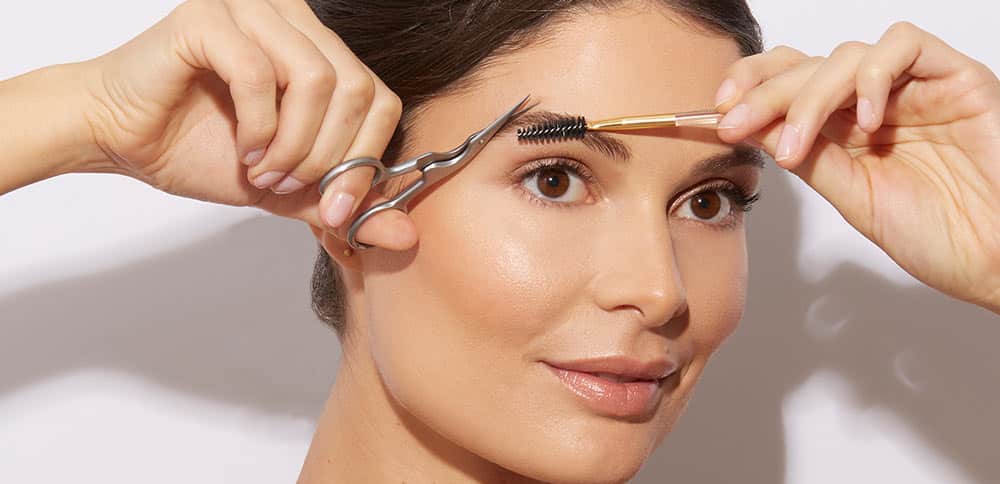 Tip 01 - Best Brow Tools for the Job
Brow shaping tools are everything when it comes to doing your brows from home. If your brow tools aren't up to scratch then you're not going to achieve that clean, perfectly maintained brow that your regular brow technician does.
Make sure you have good natural lighting to do your brow shaping. Lighting really makes a difference to seeing the shape of your brows, the highlight of the brow bone and any finer, stray hairs that might have gone unnoticed without the right lighting. A magnifying mirror will help, too, and will highlight hair that causes an uneven shape if missed. Why not take a look at our Adjustable Lighted Mirror that has a natural daylight setting, if you're struggling to find good lighting at home.
Tweezers make a huge difference to shaping your brows. Tweezerman's Slant Tweezers have been designed to grab the hair at the root to avoid breakage. When breakage of the brow hair occurs, that's when the little black dots around the brow appear where the hair has been cut off at the root. Our Slanted Tweezers have won the Allure's Best in Beauty Award since 2001-to-date!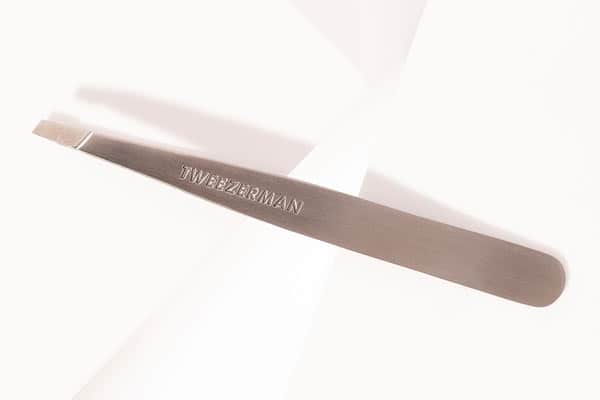 Brow Scissors are another must-have brow tool for trimming brow hair. Sharp and thin blades are key to evenly trimming brow hair and keeping control of the shape. Brow hair stops growing at a certain length and often falls out naturally. By trimming brow hair, it maintains the overall shape and gives the effect of a fuller brow, as the brow hair lengths catch up with each other.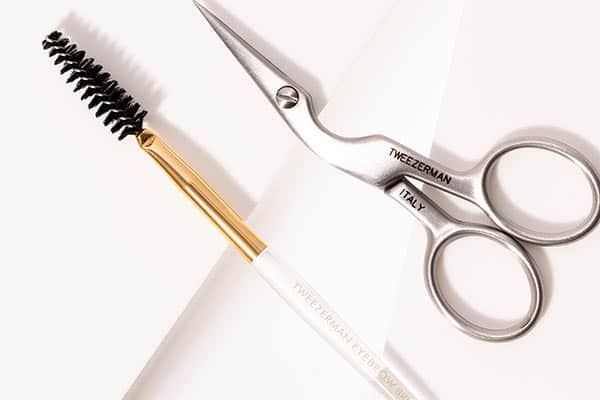 If you have a lot of hair around the brows that you'd prefer to be smoother, you can use a Brow Razor to shave off hair. Don't worry! It won't cause the hair to grow back thicker or darker, that's a common misconception.
After all the hard work of shaping your brows, keeping them in place is just as important. Every time you touch your face, put on your sunglasses or pull on a jumper, it catches on your brow hair and shifts it out of place. Our team likes to use the clear Tweezerman Browmousse to set brows in place to keep them perfectly shaped all day long.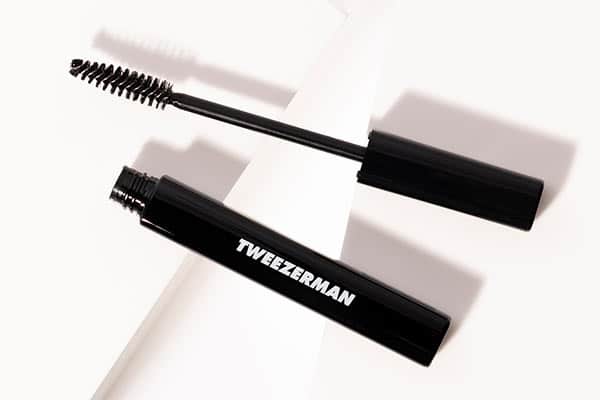 Tip 02 - Never over pluck your brows with Tweezers
Be conservative when it comes to tweezing brows. It's not something you need to look at every day or every week, for that matter. We'd recommend trimming brow hairs every 2-weeks and only plucking hairs out if they're a problem with the overall brow shape. If you're looking for a new shape for your brows, we'd suggest waiting for your Brow Technician and simply maintaining your current shape during lockdown.
When you're plucking eyebrow hair, don't pull hair outward (toward the mirror), instead, tweeze the hair in the direction of the natural hair growth - sideways - often against the brow bone and toward the temple. This will also help prevent hair from breaking at the root.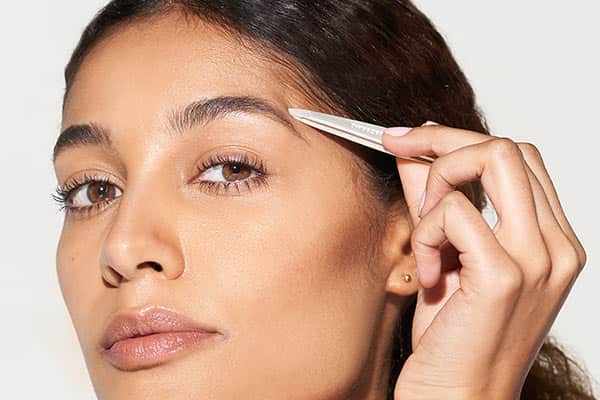 Tip 03 - Trim hair sparingly and let it grow
When it comes to trimming eyebrow hair, again, we'd urge you to be conservative and take your time. Brush the brow hair with a spoolie upward to see the length of hair, but don't simply cut straight across the hair in one seamless trim. This can leave the hair looking choppy and or abrupt - especially if you like a bushier, fluffier brow - so instead, trim individual hairs that are looking too long and unruly.
Ready to trim and shape your brows at home but don't have the tools for the job? Browse our range of Brow Tools for maintaining your brows during lockdown and beyond.