An absolute makeup bag essential for our beauty and skincare routines, Tweezers are a Beauty Tool that many of us can't live without when it comes to brow shaping, lash application and ingrown hair removal.

Last year, Tweezerman celebrated its 40th year anniversary, setting the highest standards in quality, reliability, innovation and service with every Beauty Tool sold worldwide. It's a less known fact that Tweezerman was the first to launch Tweezers with colourful and patterned enamel back in 1983. Whilst stainless steel Beauty Tools are classic and perfect for the salon and professional environment (for easy cleaning between clients), our colourful Slant Tweezers and Mini Slant Tweezers add that little extra pop to at-home routines and makeup bags.

Our brand new Limited Edition Tweezerman Tweezers have just dropped, allow us to introduce you to...
Midnight Strike Slant Tweezer

The Slant Tweezer Midnight Strike has an impressive two-tone enamel finish, which combines the flash of our Midnight Sky Slant Tweezer and pops against a white flash. Classic and monochrome, the Slant Tweezer adds sophistication with the simplicity of its black and white finish.

Famous for its quality and precision and Allure's Best of Beauty award-winner since 2001, the Slant Tweezer is recognised for its premium and professional quality for expert brow shaping.
The professional quality, 25-degree slanted tip is the perfect angle for working against the brow bone, and the hand-filed tips close evenly and firmly to remove hair from the root. Their superior calibrated tension has been designed for comfort, control and true precision when shaping your brows to your desired shape.
---
Blue Mosaic Mini Slant Tweezer

We can't stop thinking about the marine blues of the ocean with this gorgeous Blue Mosaic Mini Slant Tweezer. Pattered in a mixture of blue triangles with a pop of gold, it's giving us all the holiday vibes and we can't get enough of this limited edition Tweezer.

The mini version of our award-winning Slant Tweezer, which is famous for its precision, the Mini Slant Tweezer features perfectly aligned hand-filed tips for expert brow shaping. We love to carry a Mini Slant Tweezer when traveling or for our on-the-go touch-ups.

TSA compliant and small enough to carry in your travel bag, the Mini Slant Tweezer has the same perfectly aligned, hand-filed tips which close evenly and firmly to remove hair from the root.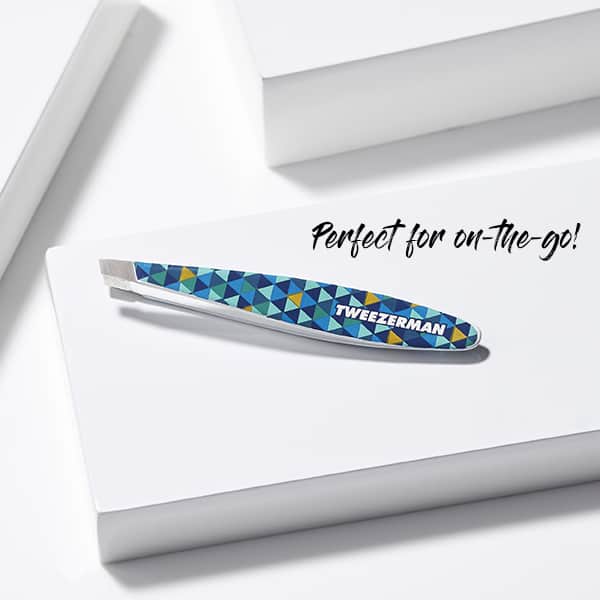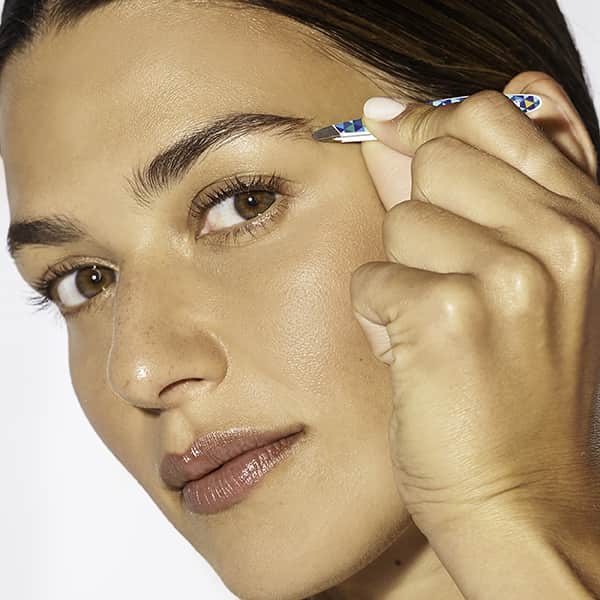 ---
Classic Slant Tweezer

Wondering about the original Slant Tweezer?

Our classic, award-winning Slant Tip Tweezer has a stainless steel finish and is the original Tweezer when it comes to the famous precision slant tips, which grab every hair every time. Use the perfectly aligned, hand-filed tips to expertly shape your brows!

The Classic Slant Tweezer is the Allure 'Best of Beauty' winner every year since 2001, a CEW Award Winner in 2018 and 2019, and recently won a Woman&Home Beauty Award in 2020! It's safe to say that it's well-loved amongst enthusiasts and professionals alike. Also available as a Mini Slant Tweezer.