Find the Right Eyelash Curlers for your Eye Shape
Just like many other Beauty Tools, Eyelash Curlers have advanced in recent years and have been developed for different eye shapes for maximum impact when it comes to curling lashes. More and more people want to have full, voluminous lashes that are perfectly curled to open up their eyes. Some use mascara, some turn to lash extensions, but a Lash Curler can make a lot of difference without adding false lashes or product. It can be a struggle to curl every lash at once, especially for those with almond-shaped eyes, so at Tweezerman, we developed different Lash Curlers for the best possible curl for everyone, no matter their shape.
Why choose an Eyelash Curler for your eye shape?
Unfortunately, many of us aren't blessed with naturally curly eyelashes and we need a little help to lift the lashes for maximum impact. Lash Curlers should be aligned to adapt to your eye shape so no lash goes uncurled and you don't have to continually repeat the process for a dramatic curl or in turn damage your lashes. Many professionals and MUA's carry more than one eyelash Curler due to different eye shapes, so they're always prepared for every individual.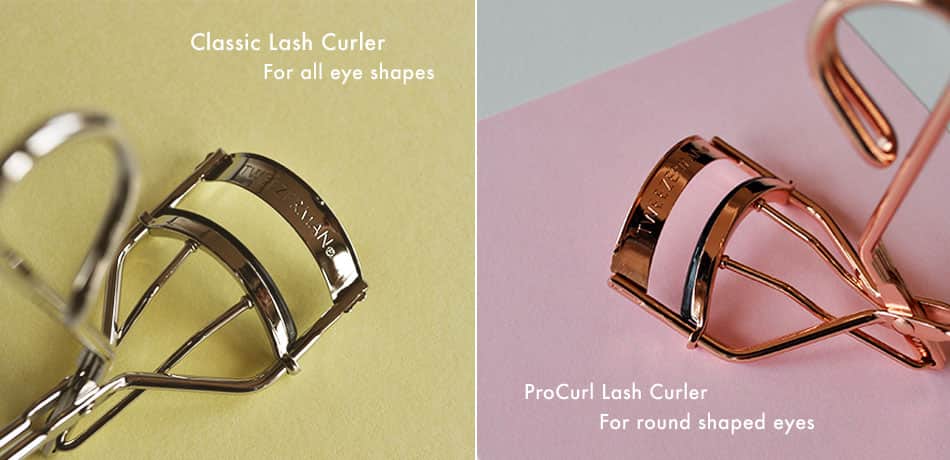 Classic Lash Curler
The Classic Lash Curler is our expertly crafted best seller to achieve that dramatically beautiful curl. Its thick, rounded silicone pad create an intense and voluminous curl to open up the eyes and dazzle. The shape of the Curler won't crease lashes or leave them sticking to the hypoallergenic pads. Includes 3 replacement hypoallergenic pads. The Classic Lash Curler can be used with all eye shapes and also comes in rose gold.
ProCurl Lash Curler
Our ProCurl Lash Curler is part of our Lash Logic series of curlers, researched and developed to tailor to the curve of diverse eye shapes, so that no lash is ever left uncurled. This rose gold Lash Curler is Allure's Best Of Beauty Award Winner 2017 and is ideal for round shaped eyes for the perfect curl. Includes 3 replacement hypoallergenic pads. The ProCurl Lash Curler can be used with round shaped eyes.
ProMaster Lash Curler
The ProMaster Lash Curler has been designed as part of the Lash Logic series for almond shaped and deep set eyes. These quality Curlers have a unique radius to match the shape and curve of the eye for a full curl. The stunning gunmetal finish and ergonomic design is sleek and easy to hold. Includes 3 replacement hypoallergenic pads. The ProMaster Lash Curler can be used with almond shaped and deep set eyes.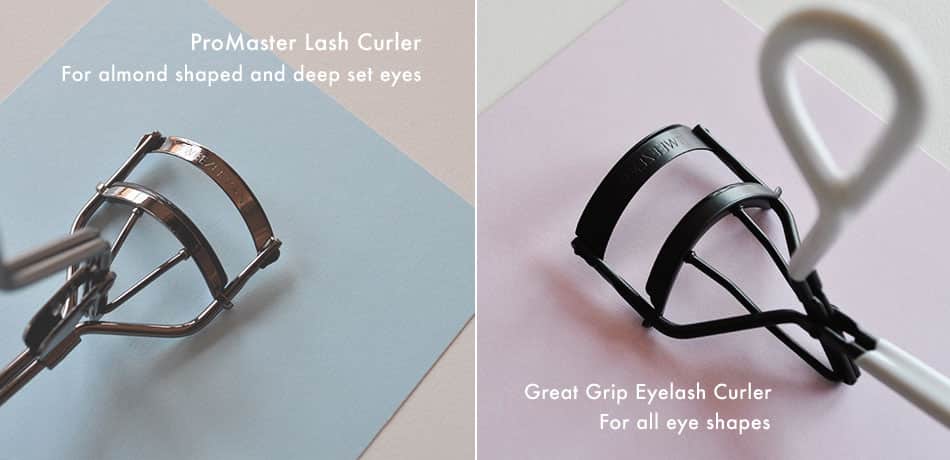 Onyx Great Grip Eyelash Curler
The Great Grip Eyelash Curler comfortably creates a lovely long lasting curl. Easy to handle and perfect for on-the-go makeup application, this curler delivers gorgeous intensity to lashes. No-slip grip with its padded handles for expert curling. Includes 3 replacement hypoallergenic pads. The Great Grip Eyelash Curler can be used with any eye shape.
SuperCurl Eyelash Curler
A great first Curler with no-pinch plastic with a large, non-stick curling surface and open sides to reach every lash. The innovative shape of the SuperCurl Eyelash Curler creates an amazing curl and to really amp-up the shape of the lash, the pad can be lightly heated with a hairdryer for a long lasting and dramatic look. The extra large curling surface won't stick to or crease lashes. Includes 1 replacement pad. The SuperCurl Eyelash Curler can be used with any eye shape.
Every Lash Curler
The perfect companion to use alongside any Tweezerman Curler. This tool is specially crafted to elevate lash looks by focussing on adding definition to the outer corners of the eye. Whilst the Tweezeman Curlers curl the full length of the lashes, the Every Lash Curler can be used to add a little more drama to the lash line where desired.
More of your Eyelash Curler questions answered...
Do Eyelash Curler make a difference?
Curlers make a big difference to look and shape of eyelashes by creating more length and volume, giving the lash a more natural curl, without the need for several coats of mascara.
Do Eyelash Curlers ruin your lashes?
Eyelash Curlers can damage eyelashes if used incorrectly. You should always curl your lashes before using mascara on them, as mascara can stick to the Lash Curler and pull the hair out.
How long do Eyelash Curlers last?
Tweezerman Lash Curlers come with 3 replacement pads which typically last 3 months each. That means that your Lash Curlers will last for 12-months, at which point, we recommend a new Lash Curler to maintain hygiene and the health of your lashes. Tweezerman Lash Curlers come with superior silicone pads as opposed to rubber which can cause irritation. Not quite what you're looking for? Shop our full range of Lash Curlers and Gift Sets.