Tweezerman's Lash Logic series of Eyelash Curlers have tailored radiuses that are skillfully curved for diverse eye shapes, so no lash goes uncurled.
Our eyelash curlers are perfect for those who want naturally dramatic curls without using lash extensions, lash strips or want to avoid the use of chemicals. Our eyelash curlers are the ultimate go-to for those that have sensitive skin or are prone to allergic reactions, as our Lash Logic Eyelash Curler range comes with thick, rounded silicone pads that are hypoallergenic and kind to the skin.
Tweezerman ProMaster Lash Curler
For Almond Shaped and Deep-Set Eyes
The ProMaster Lash Curler was designed to meet the needs of those with almond shaped and deep-set eyes. The eyelash curler has a 38° extra-wide opening that reaches every last lash across the eyeline to achieve a full curl without missing lashes; a common problem those with almond shaped or deep-set eyes find when using standard eyelash curlers. The double-bodied handle offers maximum control to increase the leverage of the handles, for an easier and safer curl.
"I googled Almond shaped Eyelash Curlers and I got these from Tweezerman and I love them. They just fit all the eyelashes in. They're not as curved, so it's flatter, so you don't get the kinky ones at the end."
Lauren Pope on her Instagram Makeup Highlight.
Our silicone pads have an ergonomic design, so they won't stick to or crease lashes when gripped, leaving them with a dramatic but soft curl.
Key benefits of the ProMaster Lash Curler
•38° angled curling bar designed for almond shaped and deep-set eyes
•Extra-wide opening that reaches every last lash on the eyeline
•Double body handle provides maximum comfort and control whilst increasing leverage
•Thick, rounded hypoallergenic silicone pads for sensitive skin
•Creates an intense lift and curl and won't stick to or crease lashes
Tweezerman ProCurl Lash Curler
For Round Shaped Eyes
The ProCurl Lash Curler has been custom designed to be specifically tailored and skillfully curved for round-shaped eyes. The awarding-winning ProCurl Lash Curler has a wide 60° angle angle opening that is ideal for round shaped eyes, to achieve natural lash lifts by curling the lashes. Our curved silicone pads don't crease or stick to lashes either, so curled lashes will look naturally lifted with a bright, open eye.
The ProCurl Lash Curler is one of the top eyelash curlers in the UK having won the Allure 'Best of Beauty' award in 2018, with its double bodied design for strength and control, and its curved design for round eyes to reach every last lash.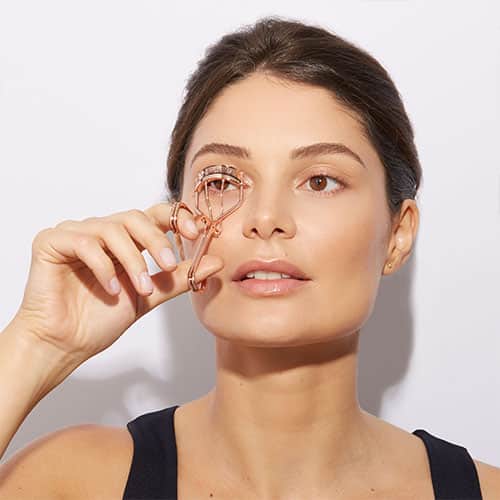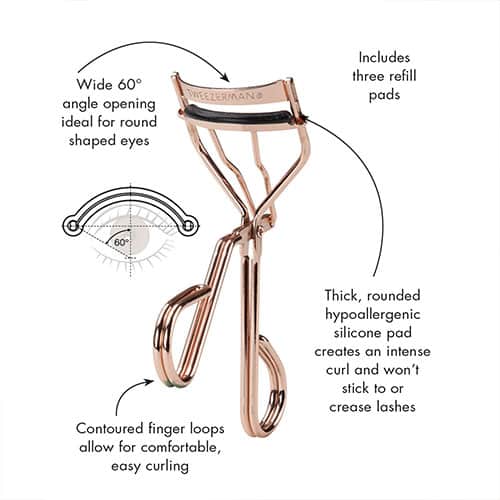 Key benefits of the ProCurl Lash Curler
•A 60° angle opening designed for round-shaped eyes
•Narrow top bar and wide opening to reach every last lash
•Doubled body handles for ultimate strength and control
•Thick, rounded hypoallergenic silicone pads for sensitive skin
•Creates an intense lift and curl and won't stick to or crease lashes
•3 replacement pads included
How to use Tweezerman Eyelash Curlers
Step One - Curl eyelashes before makeup or mascara
Makeup artists always curl lashes before applying mascara and in a lot of cases, before makeup too. It helps to open up the eye and makes it easier to apply makeup around the eye's natural shape. There's always a risk of smudging eye makeup with an eyelash curler if it's used after, too.
If an eyelash curler is used after mascara, there's the risk of lashes getting stuck, pulled out or awkwardly curled at an upright angle.
Step Two - Open eyes wide
Open your eyes wide to insert and then centre lashes. There's no rush when it comes to curling lashes and the more time you take to get the angle, the better curl will be on the lash.
Step Three - Hold the Eyelash Curler comfortably
Place your thumb and index fingers within the grip holes and open the curler wide enough for your top lashes to fit between the silicone cushion and metal top. When the eyelash curler pads are placed at the base of the lash line, you can then hold the handles firmly and gently squeeze to curl the lash. Hold for a few seconds, then open the curler slowly to release lashes. Repeat along the length of your eyelashes from base to tip for an even more intense curl.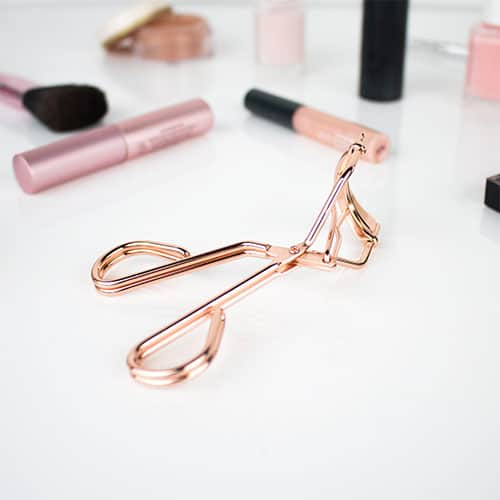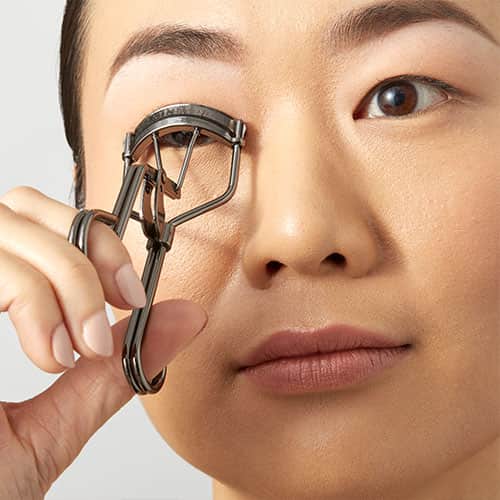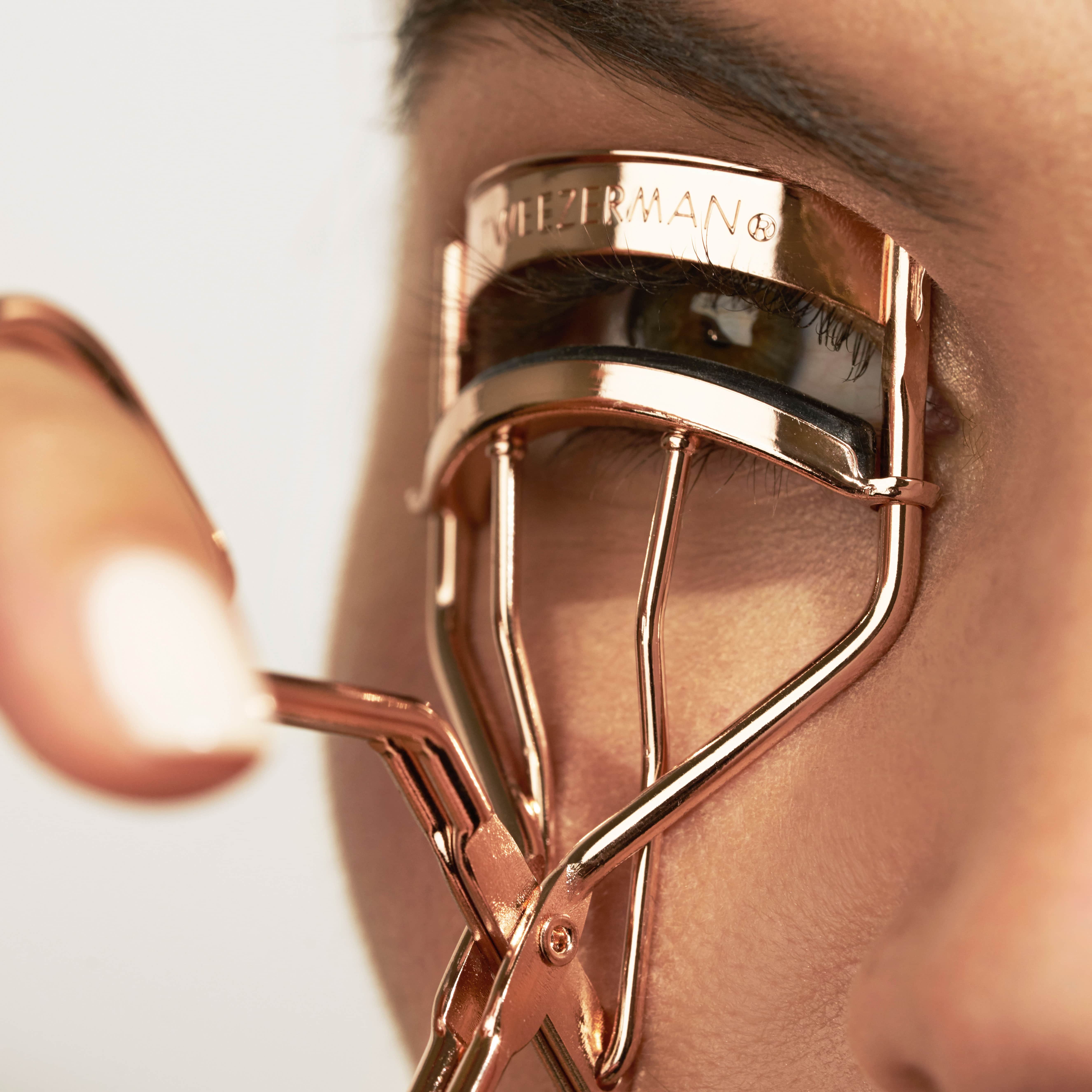 Frequently asked questions on Eyelash Curlers
Do Eyelash Curlers really make a difference?
Eyelash curlers are often forgotten about when it comes to makeup application, but they actually make a huge difference to the natural curl of the lash when used correctly (and for your eye shape). Pros will use eyelash curlers before makeup is even applied to create a wider, open eye to better style makeup around the natural eye shape.
Is it bad to keep curling eyelashes everyday?
As long as you're keeping your eyelash curler clean and change the silicone pads every 3-months (Tweezerman eyelash curlers come with 4 pads in total, so they'll last a year), it's absolutely safe to curl your eyelashes every day.
Is wearing mascara bad for your eyelashes?
As long as mascara is removed before sleeping, you shouldn't have problems (unless your skin is particularly sensitive or you have allergies). The worst thing to do is leave mascara on whilst you sleep as mascara dries, it stiffens the lash and can cause it to fall out.