New year, new skin, and with so much choice available when it comes to Skin Care and Facial Tools, it can become a little overwhelming trying to find the right one for you and your skin type. What's worse, unlike makeup, it's not as easy to test tools on your skin at a department store. That's why we've put together our Tweezerman Skin Care Tool guide full of game changers!
Beauty Tools For Facial Hair Removal
Facial hair removal isn't for everyone and some people have more hair on their face than others. It's completely normal and it's not necessary to remove the hair, however, some like a smoother surface for makeup application, as well as the penetration of skincare products. When removing hair from the face it stops makeup and skincare products from clinging to the hair, so makeup products sit on the surface of the skin and skincare products soaks in.
The Precision Folding Razor is one of our favourites and can be used anywhere on the go. It's small, light and can easily fold up to stow away in your bag. It's small, comb-like brush makes it easy to adjust and seperate hair ready for shaving (as well as dusting any away after!)
---
The blade itself is flat and when held at a 45 degree angle and applied gently to the skin, it easily shaves away peach fuzz, chin hair, upper lip hair and baby hairs from the hairline too! It can be used on more delicate areas around the eye and brow line, as well as intimate areas, such as the bikini line.
The blade is made from stainless-steel and is dual-sided for quick, pain-free hair removal. We always recommend cleaning the blade with an alcohol wipe or peroxide after each use. And of course, handle the razor with care as the blade is sharp.
£12.50
---
Smooth Finish Facial Hair Remover
We've talked about the Smooth Finish Facial Hair Remover before and how to use the tool, but it's still one of the best Beauty Tools out there for at-home facial hair removal. Whilst it can be a little daunting at first to get a hang of the technique, it works quickly to remove hair and leaves the surface of the skin perfectly smooth.
---
Of course, it's not entirely pain-free as hair is removed from the root, but the effect of a hairfree surface will last longer than shaving. Hair doesn't grow back quicker either, that's a common myth! When hair is removed from the root, overtime it grows back slowly and is thinner than before.
£21
---
G.E.A.R Nose Hair Trimmer
A slight curve ball but definitely worth a mention! The G.E.A.R. Nose Hair Trimmer works a charm for quick, painless and safe trimming of nose and ear hair. The premium quality blades won't pull hair or cut the skin. It's a handy little tool for travel and is more convenient than many battery powered nose hair trimmers. The G.E.A.R. Nose Hair Trimmer works by clicking two handles together which rotates the blades to cut the hair.
£18
---
Beauty Tools For Whitehead and Blackhead Removal
Blackhead Extractor
Although the Blackhead Extractor might look a little odd and somewhat confusing (don't worry - you don't hook blackheads out to remove them!) It's been designed by our Experts to safely and easily remove blackheads without scarring or infecting the pore.
---
We've gone into more detail about how to use the Blackhead Extractor before, but the Blackhead Extractor is designed to provide the correct amount of pressure to be effective without harming skin. If you suffer from blackheads, then this tools unique upward curved shape allows for clear visibility when squeezing out blackheads.
Featured in Heat Magazine.
£18
---
No-Slip Skincare Tool
This dual sided No-Slip Skincare Tool is essential for clear skin maintenance. Made from premium quality stainless steel, the tool is durable and easy to clean. It's DIY at-home-facial favourite and easily allows the the right amount of pressure to be applied to the skin, without scarring or causing irritation.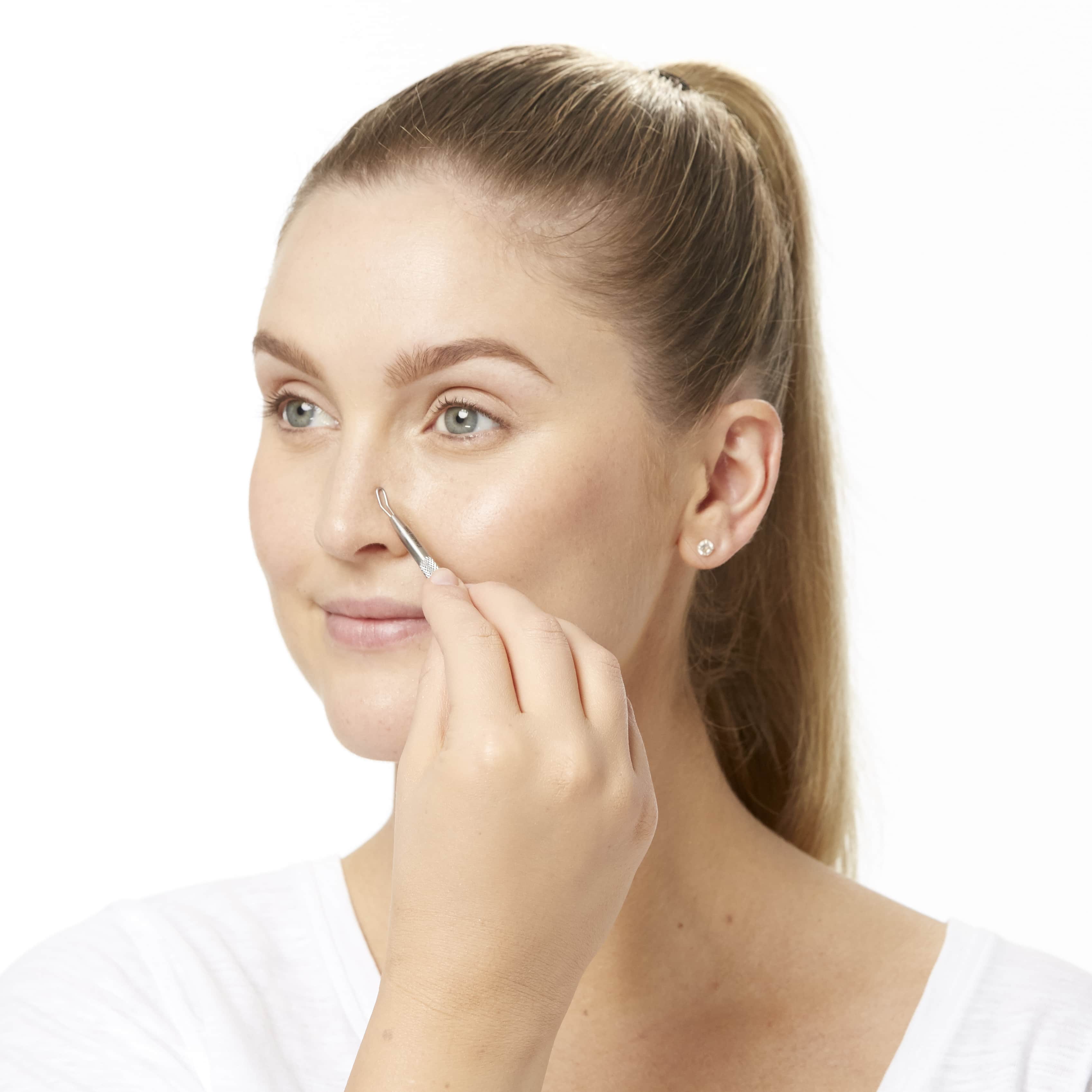 The long, flat loop is especially designed to gently and flawlessly remove mature white heads, whilst the smaller, angled end is designed to effectively press out blackheads without damaging skin.
Featured in Trinny Woodall's Secret Beauty Tools
£12.50
---
Beauty Tools For Facial Exfoliation
Bright Complexion Facial Dermaplaner
Many describe facial dermaplaning as shaving your face but that's not the case, as dermaplaning is the process of removing dead skin, excess sebum and peach fuzz from the surface of the skin. The benefits of this are vast and rewarding, leaving skin smoother, cleaner and brighter in complexion. The soft and clean surface allows for better penetration of skincare products and makeup sits smoother on the face, without drying around dead skin or sitting in facial hair.
---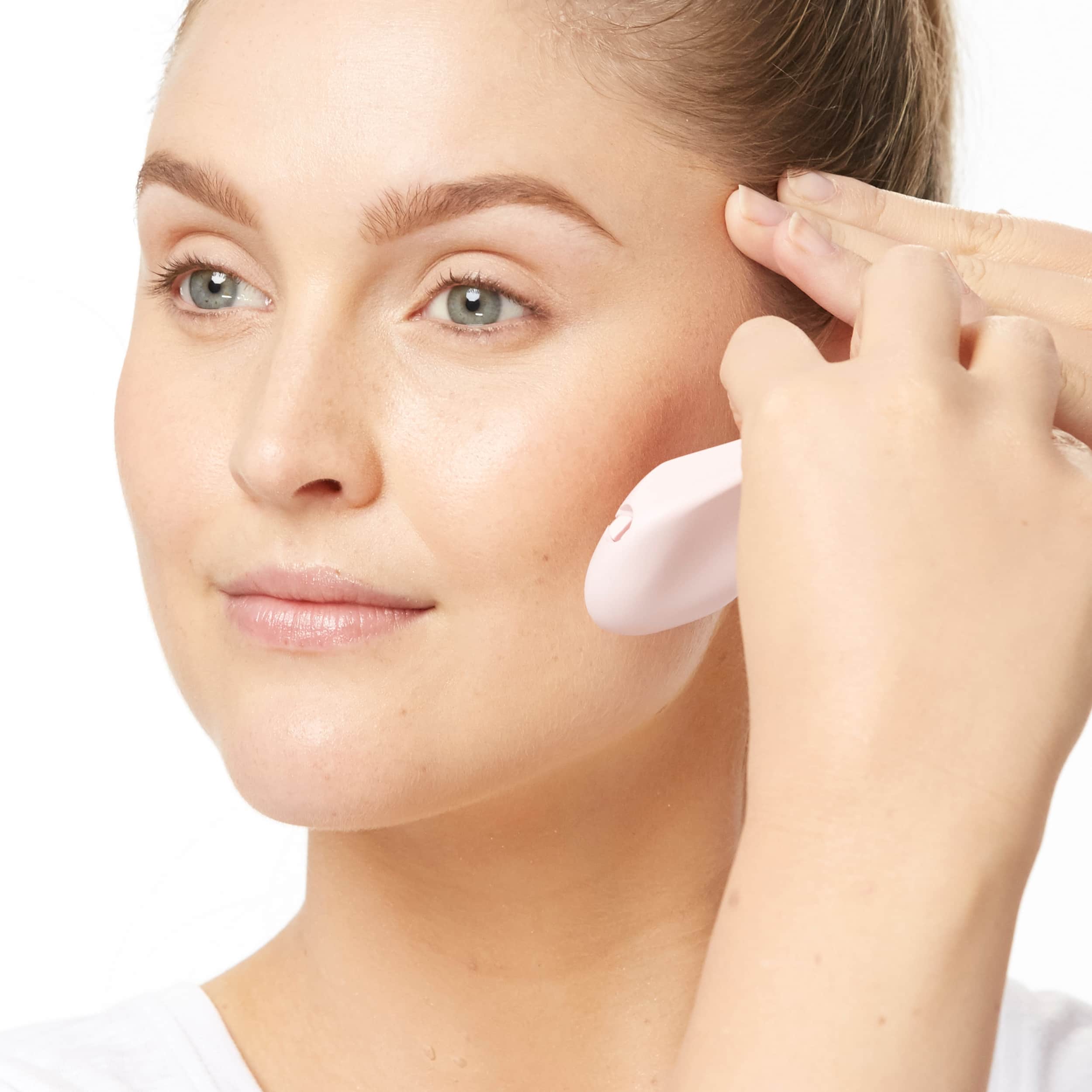 Dermaplaning is completely pain-free as long as you're using the right technique. You're essentially dragging a blade across the skin and although it's not exceptionally sharp, you should still protect the skin by applying a serum or moisturiser so that the blade can easily glide against it for dead skin removal.
£33
---
Complexion Cleaning Brush
The superfine, soft bristles of the Complexion Cleaning Brush clean deep into pores to wash away impurities while gently exfoliating. Designed for daily use at the sink or in the shower with your favourite facial cleanser, this brush works against skin without irritation.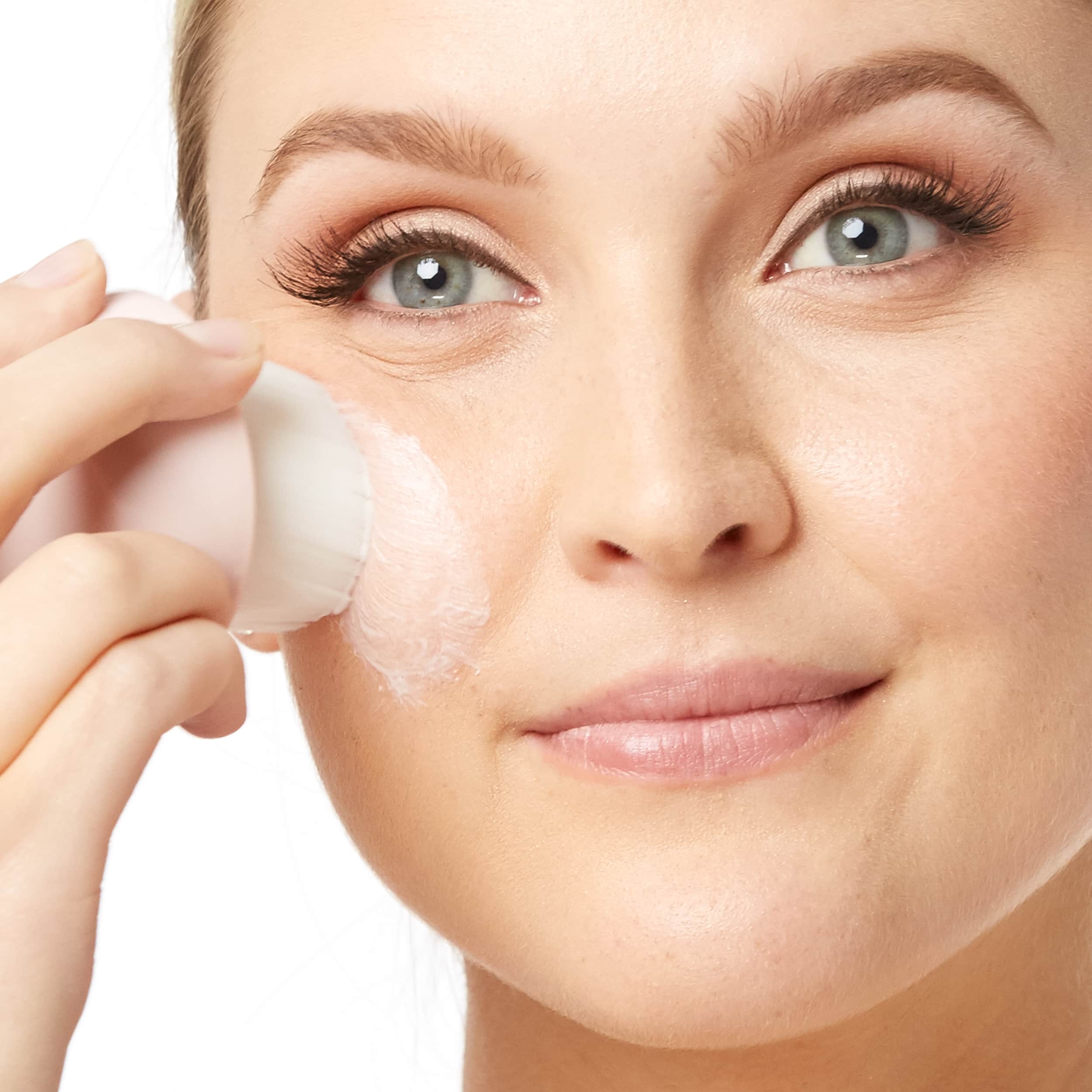 It leaves skin looking smooth, clean and fresh and creates a good lather that penetrates pores more deeply than using hands or wipes.
£18
---
For Hard Skin and Callus Removal
Sole Smoother Antibacterial Callus Stone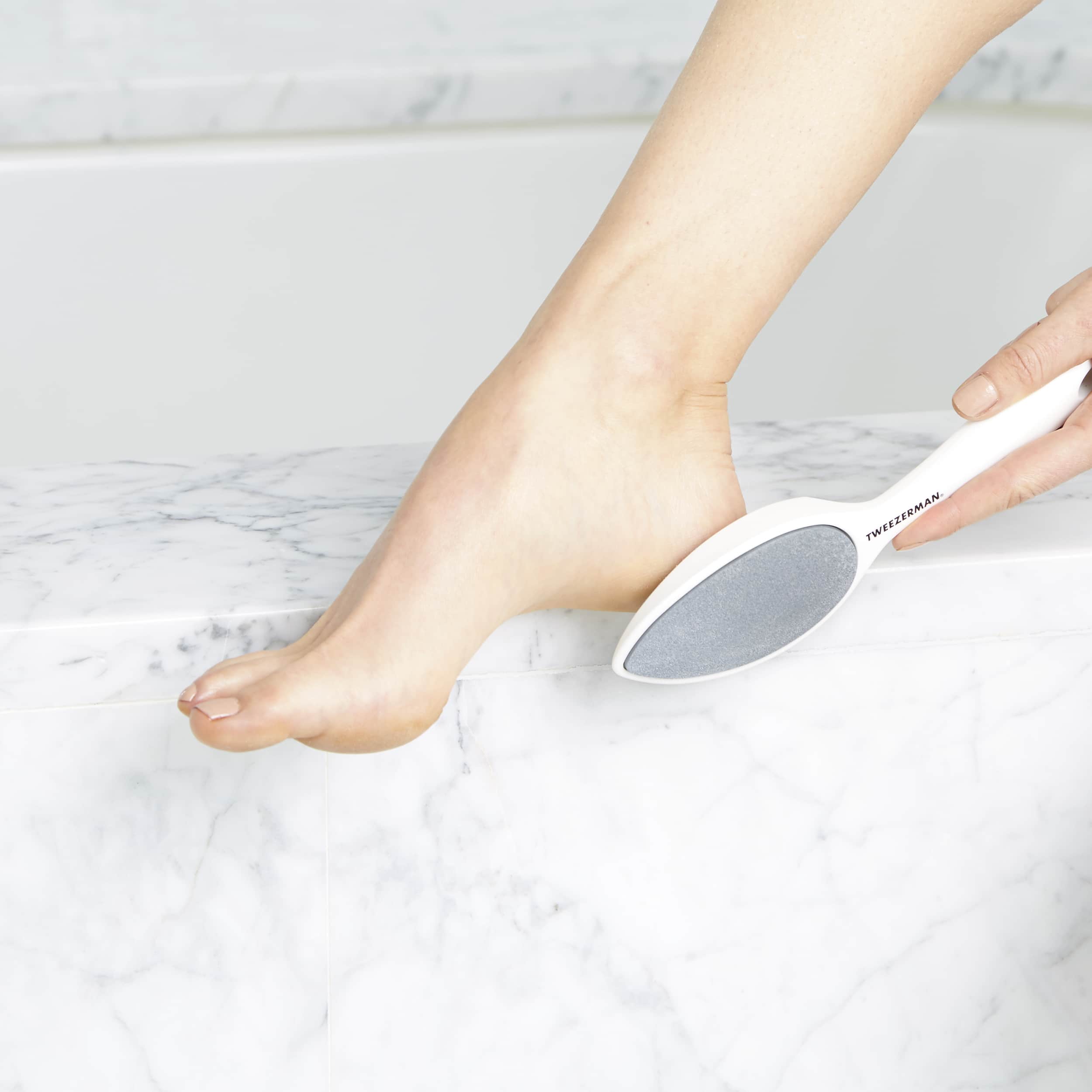 As featured on This Morning, the Sole Smoother Antibacterial Callus Stone is the perfect at-home tool. It can be costly paying for a salon pedicure when sometimes all you need is a little foot scrub with a foot file.
The dual-sided callus stone is infused with silver and provides protection from bacteria and germs. It's fully waterproof and has an ergonomic handle for comfort whilst in use. Simply soak your feet to prepare and help soften hard skin. Whilst the skin is still soft and damp, use the rough side to exfoliate rough patches, then use the opposite side to smooth the soles of your feet and around toes.