There are many benefits to a good, natural skin care routine and it's a self-care favourite for many. There's nothing quite like a facial when skin is feeling particularly dry, oily or tired and needs a little boost of freshness from a well-deserved facial. We've put together a guide to our favourite Facial Skin Care and Beauty Tools, as part of your at home Beauty and Skin Care routine.
No matter your Skin Care type, these tools can be added as part of your step by step skincare routine for effective at home skin care treatments.
Skin Care Tools for Blackhead and Whitehead removal
Blackhead Extractor
The Blackhead Extractor is one of the latest advancements in Skin Care Tools that can be used as part of any at home skin care routine. Dermatologist tested, the blackhead removal tool has a unique shape that expertly eliminates visible blackheads by removing them from pores safely, without scarring or damaging the skin. Crafted of stainless steel, it has all the convenience and quality of the highly coveted Tweezerman Tweezers, with excellent calibration for tension. Easily press, squeeze, roll and lift blackheads from the skin with the upward curve of the Blackhead Extractors unique shape.
No-Slip Skincare Tool
As part of any Facial at home, the No-Slip Skincare Tool can be used to safely remove both blackheads and whiteheads from pores. The dual sided skin care essential makes clear skin maintenance super easy at home and is made from our premium quality stainless steel, the tool is durable and easy to clean. It's an essential skincare tool for any DIY facial.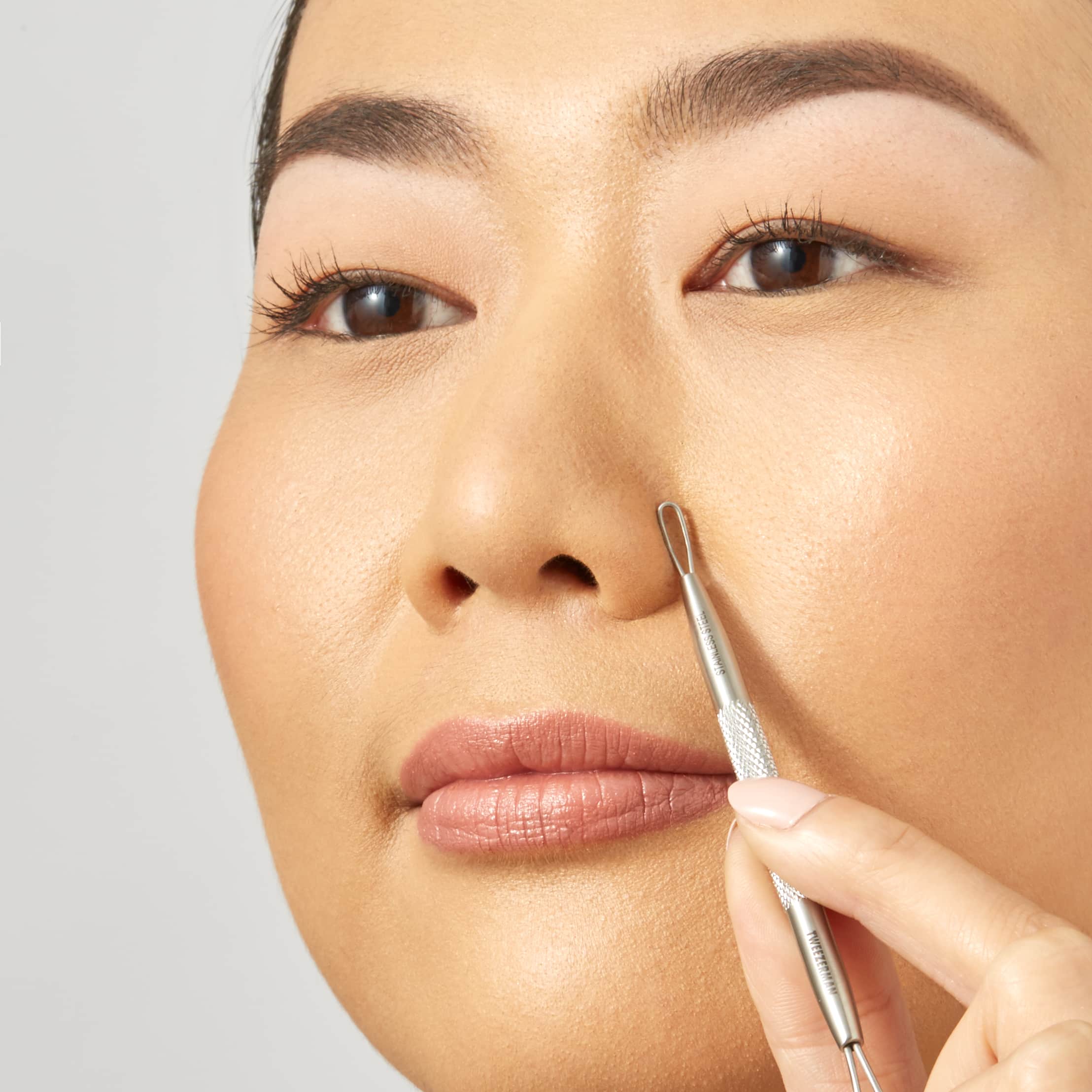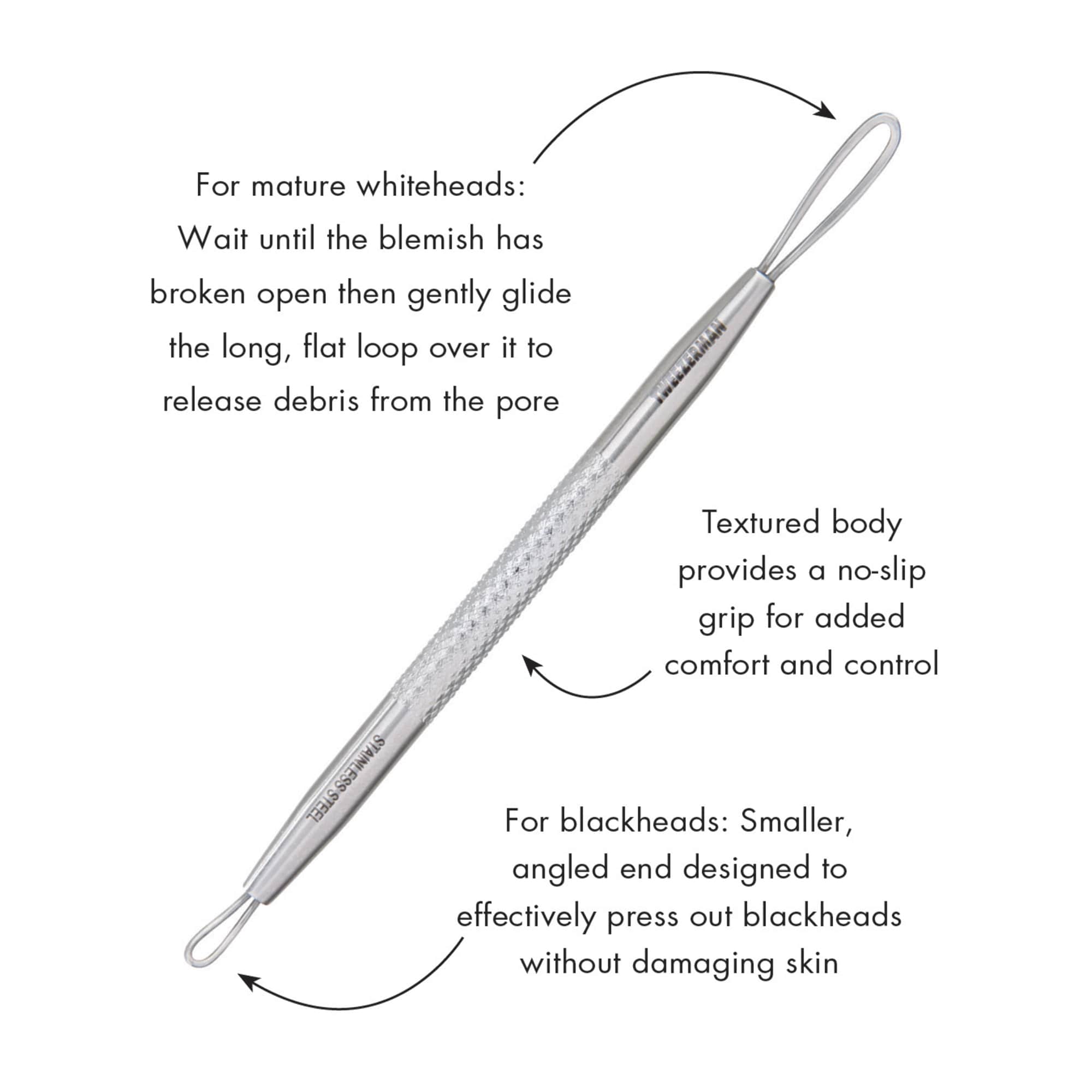 The long, flat loop is especially designed to gently and flawlessly remove mature whiteheads, whilst the smaller, angled end is designed to effectively press out blackheads without damaging or scarring the skin, as using your fingers and nails so often can.
Beauty Tools for facial exfoliation and cleansing
Bright Complexion Facial Dermaplaner
As we're all unable to visit beauty salons at the moment, the Bright Complexion Facial Dermaplaner can be used for at home dermaplaning. The Dermaplaner exfoliates dead, dull skin cells for a brighter, clearer complexion by gently scraping at the surface of the skin, to leave skin looking fresh.
The replaceable, high quality stainless steel blades easily slide out and click into place, and with 4-blades, the Dermaplaner will last for a year. Simply move the tool gently with light pressure and short strokes in downward motion over forehead, cheek, chin and nose areas, with a maximum of three strokes per area. If you want to remove peach fuzz too, use the Dermaplaner in the opposite direction.
Beauty Tools For Facial Hair Removal at home
Precision Folding Razor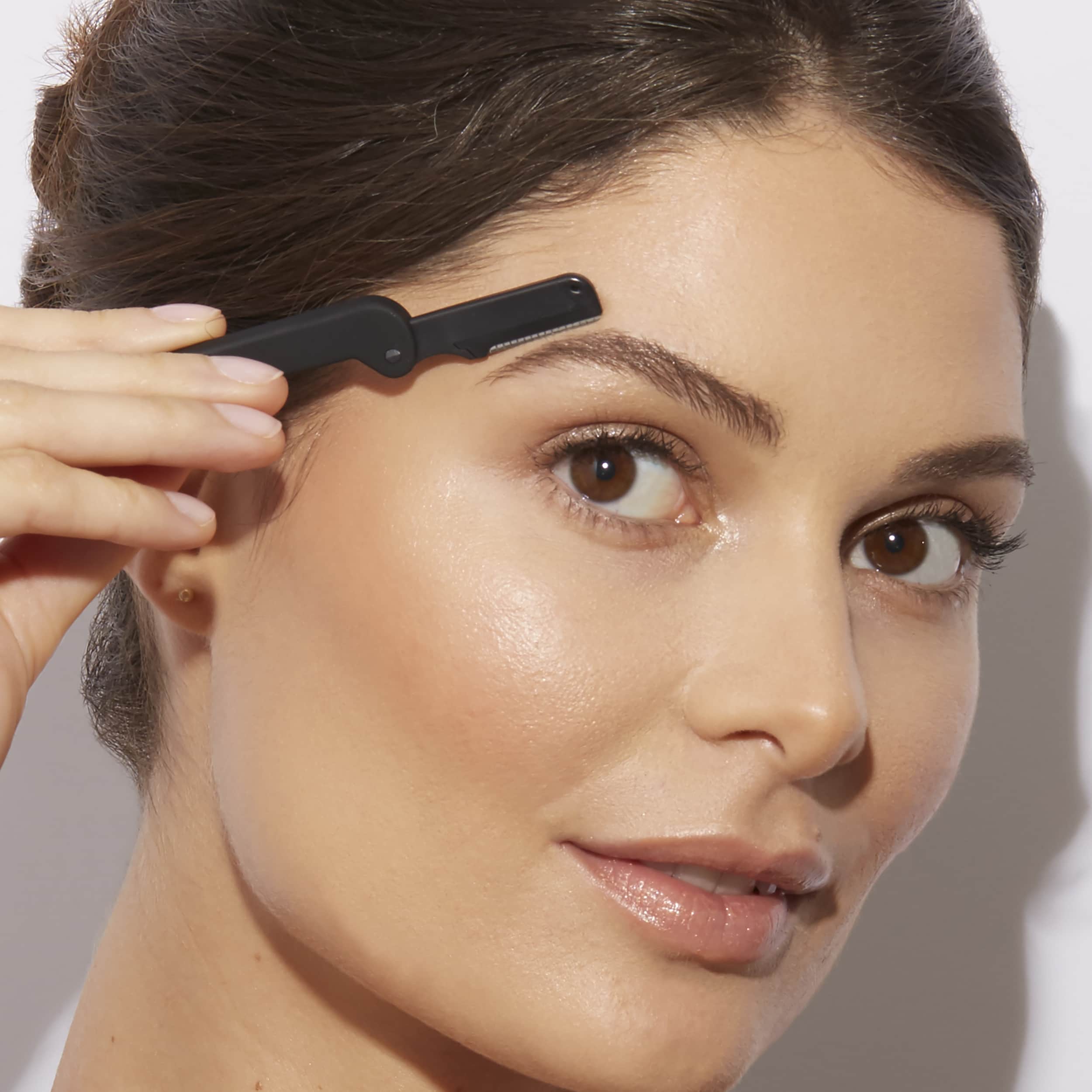 The Precision Folding Razor features a dual-sided stainless steel, high-quality blade. It's portable and folds easily so that the blade can be safely tucked away when not in use. It's perfect for at home facial hair removal, whether of the brow, cheek, upper lip or sideburns, the blade easily removes hair. Unlike dermaplaning, which removes dead skin and sebum from the skin's surface (similar to exfoliation), using facial razors removes hair and stops products from sticking to and caking around hair on the face.
Find out more about the Precision Folding Razor for brow and facial hair removal.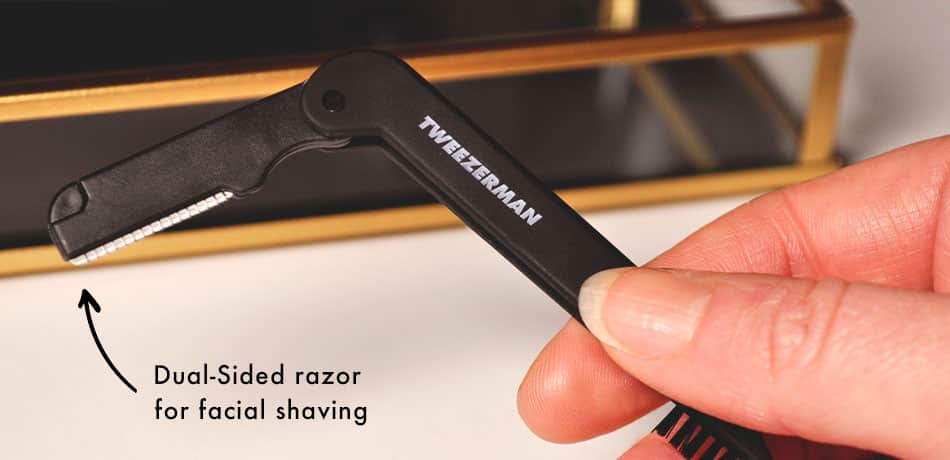 Smooth Finish Facial Hair Remover
The Smooth Finish Facial Hair Remover effortlessly removes unwanted facial hair with the simple twist of its handles, plucking hair from the root on mass instead of each individual hair. Perfect for removing unwanted hair from the neck, chin, cheeks and upper lip, the facial hair removal tool is a must have for at home hair removal, without the need for wax or chemicals. That means it's especially great for those with sensitive skin.
Find out more about the Smooth Finish Facial Hair Remover and how to use the tool.