It used to be that there was no better feeling then getting your nails done - now there's no better feeling than taking them off! Nail infills, patchy gel polish, longer than usual nails - it's time to take gel nails and gel polish removal at home to the next level, with DIY gel removal during quarantine.
Remove your gel polish and gel nails at home with our easy steps
Step one
Clipping and filing the gel polish
Cut the nail down as much as you can without snipping your natural nail. The longer the nail is, the harder it is to remove the gel and the longer it'll take to soak them, too. When it comes to cutting, gel can be quite tough, so we'd recommend a good, strong nail clipper like our Combo Clipper Set or a pair of Stainless Steel Nail Scissors.
You never want to actually file all the way down to your natural nail either. There will be a couple of coats of gel polish (in most cases) and then the gel itself which covers your nail. Only file and buff down the top coat with even pressure. That means you'll be filing around 30% off the "depth" of the nail. If it starts to hurt or burn or sting in any way, that means you'll have gone too far. Take your time and take it as "less is more" when filing because you can always go back to filing later, if you need to.

You'll need a nail file that has a grit which can cope with breaking down the gel polish. We'd recommend 100/180 medium grit and our Neon Hot Filemates have both options to work down gel nails.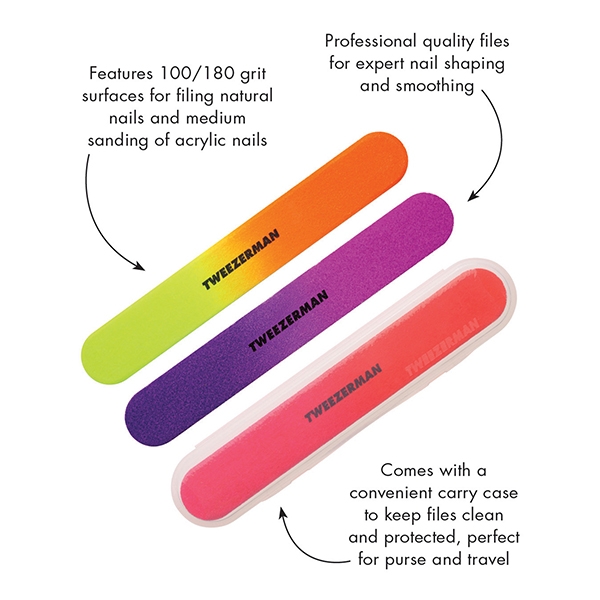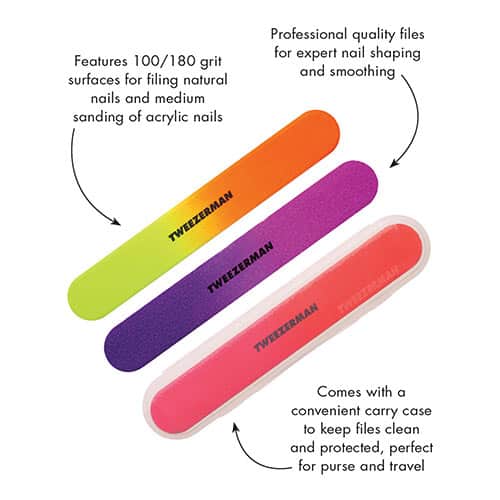 Step two
Soak nails in acetone
Normal polish remover won't break down gel polish unless it specifically states that it does. Breaking down gel needs acetone, so check the remover you have to see if it contains it - though we would recommend 100% pure acetone to really get to work on the gel.
However, acetone can cause dryness so rubbing cuticle oil, coconut oil or petroleum jelly (vaseline!) into cuticles before, will help to keep them hydrated and avoid any excessive dryness of your fingertips, too. Take a cotton ball or cotton pad used to remove makeup and drench in acetone, and then place on top of each of your nails. The next step can be a little trickier. You'll need to wrap each nail (including the cotton) with foil so that both the cotton and the foil hug the nail.
You'll want to wait around 10 to 15 minutes to allow the acetone to soak into the gel so it begins the lifting process. It's important not to rush this stage and although you'll likely want to get on with it - by removing them too quickly - the gel won't have soaked in long enough, making it harder to remove with the potential of damaging your natural nail.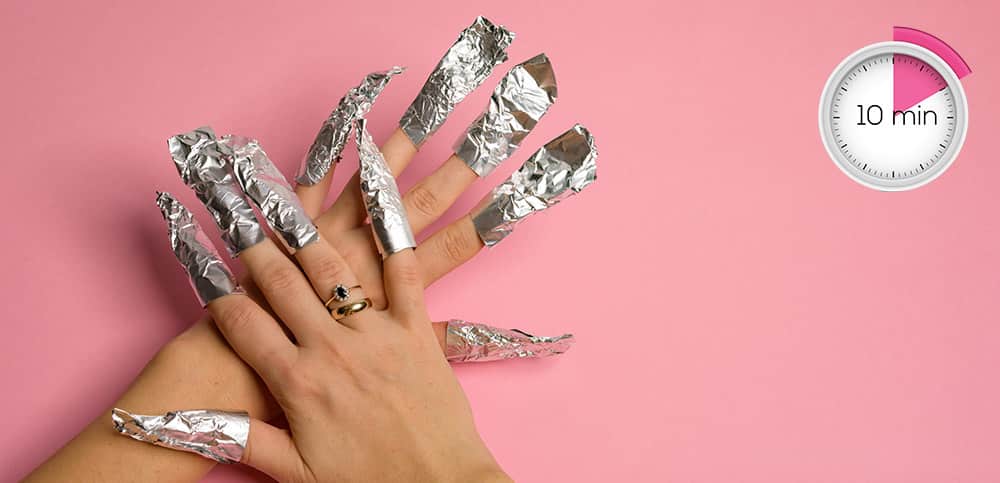 Step three
Removing the gel nail
When you've finished soaking your nails, the polish should peel off on its own with little encouragement from yourself. If you're finding that you have a couple of spots that are particularly difficult and haven't peeled - file the area a little more (careful not to go too deep) and then resoak the area for another 5 minutes.
If you're still finding that the gel is lifting off but not as easily as you'd like - you can use tools such as the Pushy and Nail Cleaner or the Dual Sided Pushy to gently ease the gel from the natural nail (after soaking). You should be able to do this with little to no pressure.
Step four
Finishing and hydrating nails
If you have nail strengthening oil, it's good to apply it now once you've washed your hands free of any acetone, oil or chipped gel polish. Coconut oil and olive oil also works and will moisturise the nail, the nail bed and keep your nails looking healthy, too.
If you're happy to, it's also a good idea to let your nails breathe and take some time away from the application of gel and gel polish. It's a perfect time whilst we're all at home and will give your nails time to strengthen, too. If you're using regular nail polish, use a strengthening base coat to protect the nail as it recovers from wearing gel.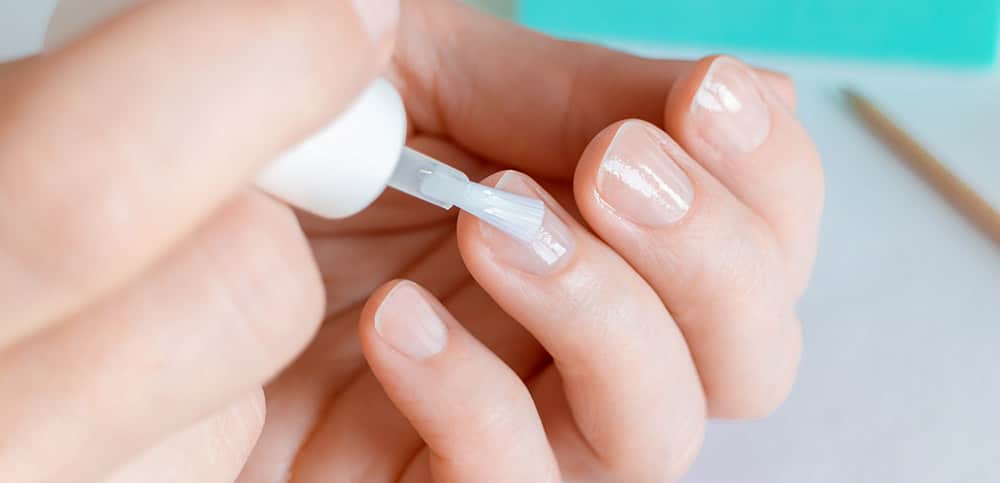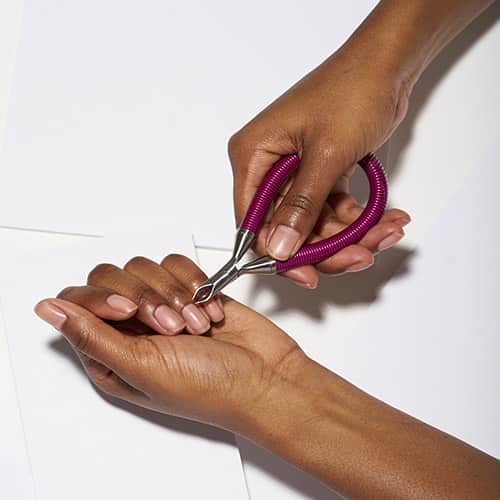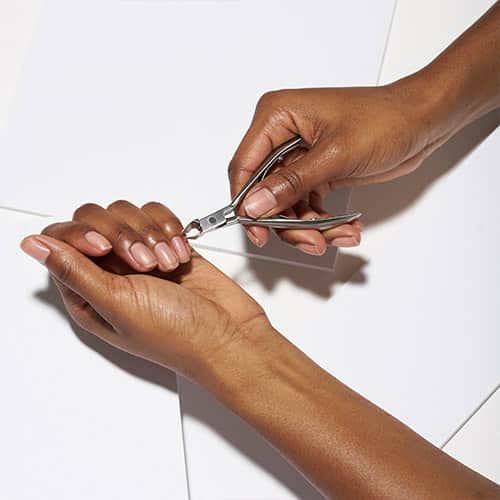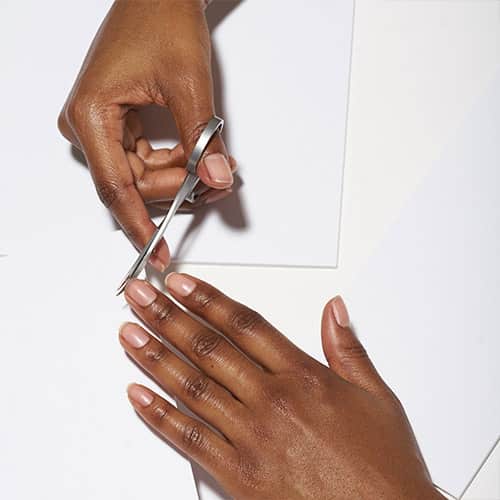 Not quite the Nail Care Tools you were looking for? Check out our full range of Manicure and Pedicure Tools for at home Nail Care.