Winter can be a terrible time for our complexions and many of us find our skin becoming dry, irritable and flakey due to the cold, wind and the burst of heat when stepping inside just about anywhere! That's why skin care during the winter months is so important and finding a skin care routine that works for you and your beauty regime.
Start your new year as you mean to go on! New year, same you (you're just as fabulous) but let's revitalise your skin and give it the TLC it needs against the harsh weather. Refreshing your skin care routine can be therapeutic and aside from the double cleansing, product layering (don't forget the SPF!) and face rolling, we've put together a guide to our favourite Tweezerman Beauty Tools for face and skin care.
Face Shaving Tools
It's not for everyone but face shaving adds a little extra exfoliation by removing excess dead skin cells, sebum (oils produced by the skin) and what we like to call peach fuzz. We're not talking about putting a disposable razor to your face either! There are Expert Tools to handle facial hair removal with shaving and Tweezerman have a couple to choose from.
Why shave your face?
Some people naturally have more facial hair than others around the cheeks, the chin, upper lip and the sides of the face. Facial hair might be more visible for those with darker hair and it's nothing to feel self-conscious about - everyone has hair! However, removing facial hair can have amazing effects when it comes to makeup and skin care application.
By removing hair from the face, it allows skin care products to penetrate deeper into the skin and work its magic by hydrating and rejuvenating. Skin care products can sit on the hair otherwise and when make up is applied, such as foundation, it rests on the hair and becomes more visible and gives a less than even and smooth overall complexion. Huda is a firm believer in shaving her face and incorporates it into her beauty routine once a week!
How should you shave your face for skin care and makeup application?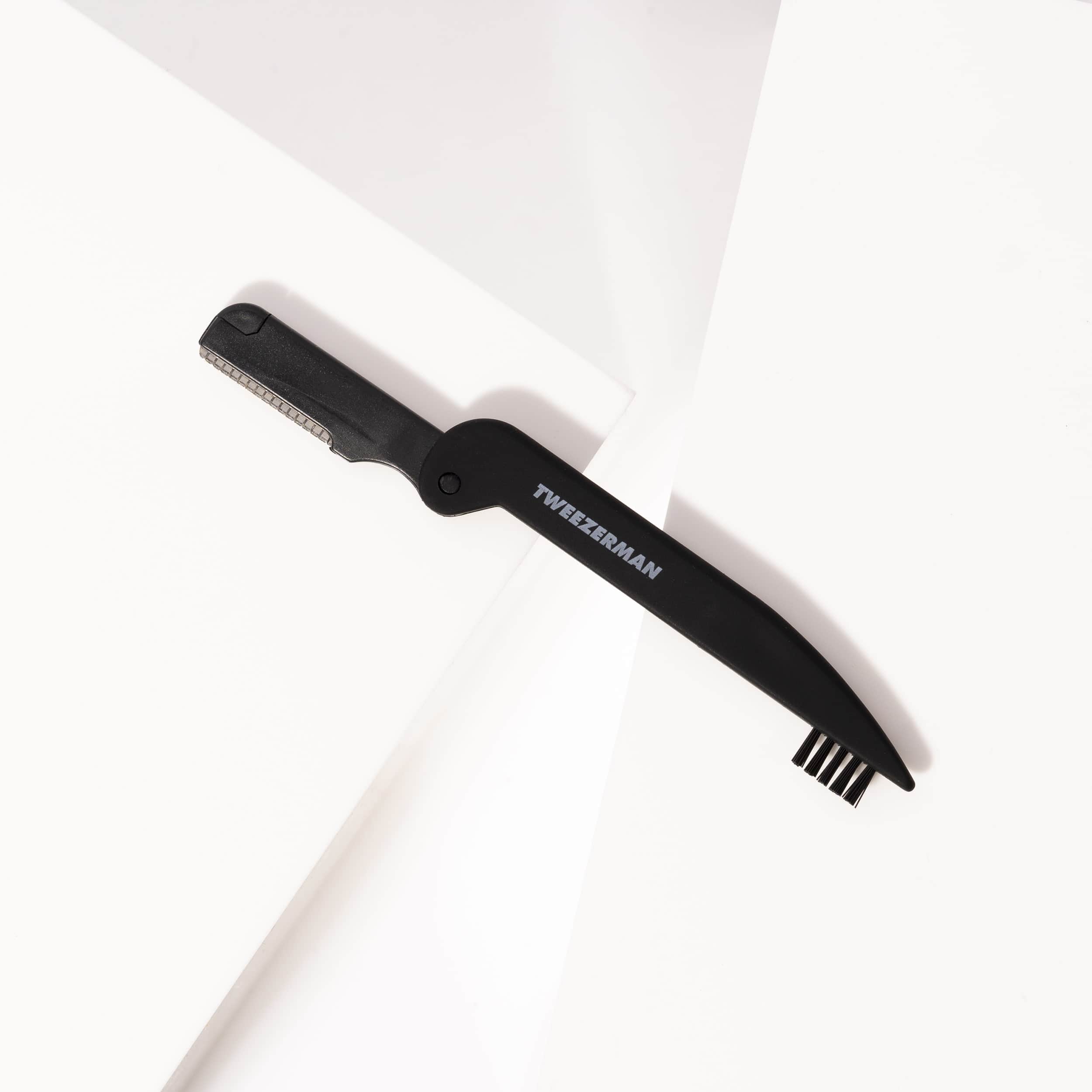 Make sure that your skin is completely dry first and don't apply too much pressure. Be gentle when guiding the straight blade across your face.
Hold your blade at a 45 degree angle and pull your skin taut as you glide over it. Always apply rubbing alcohol to the blade in between uses to keep it bacteria free and fresh for the next use. Definitely don't use your normal razor for your legs! It won't perform the same sort of job.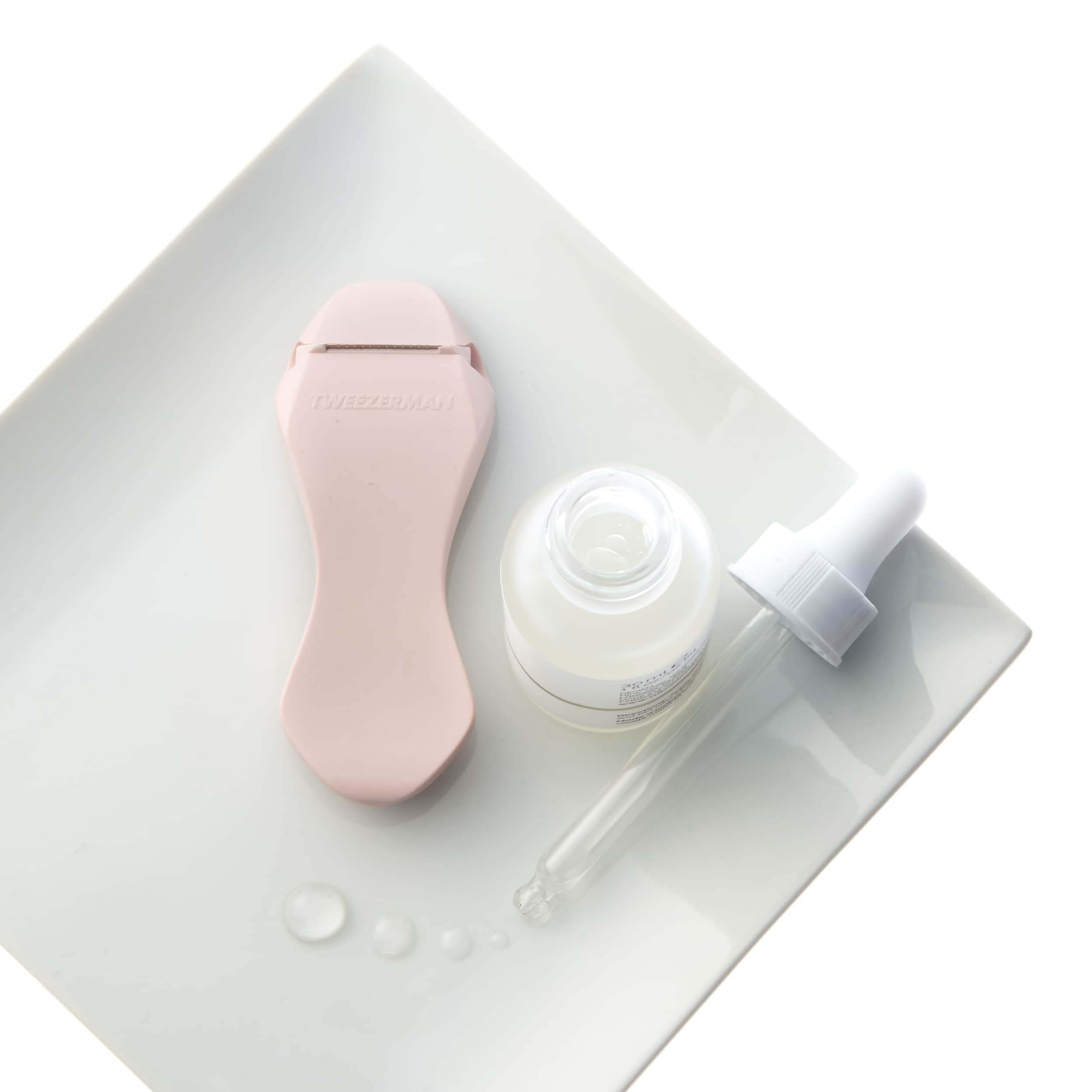 Another option for facial hair shaving is the Bright Complexion Facial Dermaplaner. It's a facial tool designed for exfoliation to remove dead, dull skin cells for a brighter, clearer complexion.
Whilst it rejuvenates dull skin, when used in the opposite direction of hair growth, the Facial Dermaplaner will remove hair like a straight edge precision blade too. It's wider, with a downward facing blade and can be more comfortable for some to hold and use to remove peach fuzz.
If facial shaving isn't your thing then the Smooth Finish Facial Hair Remover works similarly to a Tweezer. Its coil can be turned by two handles which turns the spring and pulls hair from the root, rather than shaving it to the skin's surface.

Whilst this does come with some level of pain (pulling hair from the root), it does mean that it doesn't need to be done as often and overtime the hair will become thinner and there will be less of it. The Smooth Finish Facial Hair Remover removes hair effortlessly from the neck, chin, cheeks and upper lip.
Exfoliating Skin Care Tools
As mentioned, the Bright Complexion Facial Dermaplaner is great for exfoliating, as the blade gently glides and collects dead skin cells. Each blade can be used for up to three months and with a total of four blades, the device comes with a one year supply.
Another great Skin Care Tool to use for exfoliation is the Complexion Cleansing Brush. Whilst many facial brushes have rough bristles, the Complexion Cleansing brush is incredibly soft, flexible and gentle against the skin. It's especially good for those that are prone to skin irritation and redness.
Its soft bristles clean deep into pores to wash away impurities while gently exfoliating. It's designed for daily use at the sink or in the shower with your favourite facial cleanser. By cleaning the pores deeply and regularly exfoliating the skin, the Complexion Cleansing Brush will leave you with a cleaner, smoother and refreshed complexion. Be sure to never exfoliate more than a few times a week so your skin doesn't become dry or irritated.
Blackhead and Whitehead Removal
There's nothing worse than a whitehead or an unsightly blackhead! Most of us will try anything to squeeze them and remove them and be free of the pressure of a spot. However, don't try to squeeze or remove the blackhead or whitehead with your fingers! By doing that, it can lead to further irritation, more bacteria getting into the pore or infection, and it could leave your skin scarred!
Extractors are the perfect Beauty Tool for your Skin Care routine. These Tools can be used to place around a blackhead or whitehead to remove them with a little pressure and no bad side effects. Our dermatologist tested blackhead removal Tool has a unique shape to expertly eliminate visible blackheads at home. Crafted of stainless steel, it has all the convenience and quality of the highly coveted Tweezerman Tweezers you know and trust.
Our No-Slip Skincare Tool safely and gently removes whiteheads with its dual sided arms for essential clear skin maintenance. Perfect for DIY at-home-facials and keeping your skin free of whiteheads. Use the No-Slip Skincare Tool after your face is clean and makeup free.
The long, flat loop of this tool is specially designed to gently and flawlessly roll out mature whiteheads while the smaller, angled loop of the tool is designed to effectively press out blackheads. Remember to use only on pre-cleansed skin!